Your morning roundup for Dec. 16, the day we learned not to start a fan page on Facebook when no one likes you. Photo via Mocksession. Got any stories or photos for us? Tip your editors.
What we watched: The Atlanta Falcons have to be the NFC dark horse right now. Not that manhandling the Jaguars 41-14 is overly impressive, but the Falcons won't have to endure the widespread skepticism they faced last year after a surprising 13-3 regular season. By passing the overrated torch to San Francisco, they can quietly sneak into a wild-card spot and maybe piss a few teams off. Okay fine, Green Bay would probably murder them again anyway.
G/O Media may get a commission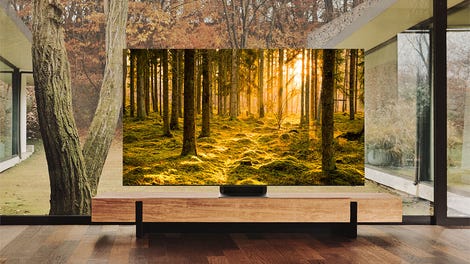 Up to 40% off
Samsung Smart TVs
What we're watching (all times EST, unless noted): Third round of the Dubai Ladies Masters in the Ladies European Tour at 3 (Golf Channel). Cleveland at Detroit in NBA preseason basketball at 7:30 (NBATV). Montana vs. Sam Houston State in the NCAA FCS football semifinals at 8 (ESPN2). Third round of the JBWere Masters at 8:30 (Golf Channel).
Read Me
Slate's collection of Christopher Hitchens's greatest columns: "Hitchens' writing style defied editorial intervention. Consequently, he reduced editors to fact-checkers. He had a prodigious memory, but his head wasn't just stuffed with lines of poetry and tables of arcane facts: Apparently, he could also recall chunks of prose from the New York Times more or less accurately. Shortly after the news of Sen. Larry Craig's arrest in an airport men's room broke, Hitchens filed the piece that for me best exemplifies the breadth of his interests and the completeness of his recall-it contained quotes from an obscure academic work, recollections of hilariously profane bathroom graffiti, remembered conversations with British politicians, and lines of satirical verse published decades earlier." [Slate]
This Date In Deadspin History
Dec. 16, 2005: The Full Report On The Sex Boat
Elsewhere
Dwight Howard still wants out: "Howard said Thursday that his trade request hasn't been withdrawn, a day after Magic general manager Otis Smith shook off questions about what offers he'd received and said that trade discussions involving him 'could go to the end of the season.' The team is off Friday, its first break since training camp opened last week. 'There's no back and forth,' Howard said. 'It still stands and we know what's going on. I talked to Otis today. What we talked about is gonna stay between me and him.'" [AP, via ESPN]
Plaxico Burress can't wait: "Plaxico's team heads to Philly this weekend, in his first trip there since November 2008—his last visit as a member of the Giants. On Thursday, Burress spoke to the media about his return. 'Over the years, it's been one of those battles that I've had with them,' Burress said in comments circulated by the team. '[There have been] two or three last-minute touchdowns to win games. It's just always a fun place for me, personally. I'm pretty sure the fans will boo me. They love me, they just don't want to admit it. It's going to be fun.'" [PFT]
Your Bungee Jumping Prank Interlude:

The Lakers hate David Stern: "The Lakers were hit with a two-by-four of bad news Wednesday, Chris Paul heading to the Clippers and Dwight Howard heading nowhere. The Lakers were privately fuming Wednesday, according to a person with knowledge of their front office, when Paul, the New Orleans point guard, ended up in Los Angeles six days after the NBA vetoed the Lakers' trade for him. Lakers General Manager Mitch Kupchak declined to comment through a spokesman but earlier this week said the NBA's blockade was 'completely unexpected.' 'We did the best we can to express our displeasure,' Kupchak said Monday." [LA Times]
This is awkward for Don Mattingly: "When fans enter the gates of Dodger Stadium for the Angels-Dodgers game on June 12, they'll be given what I assume is a first in the world of baseball giveaways—a bobblehead of that night's opposing manager. Of course, it's not just any opposing manager. It's Mike Scioscia, who won two World Series and spent all 13 of his seasons as a catcher with the Los Angeles Dodgers (as well as a few more years as a coach) before heading south and taking the Los Angeles Angels' manager job in 2000. If it was once thought impossible to be an inextricable part of the fabric of both franchises, Scioscia —now the longest-tenured manager in the bigs after Tony La Russa's retirement—has proven that wrong." [Big League Stew]
Send stories, photos, and anything else you might have to tips@deadspin.com.