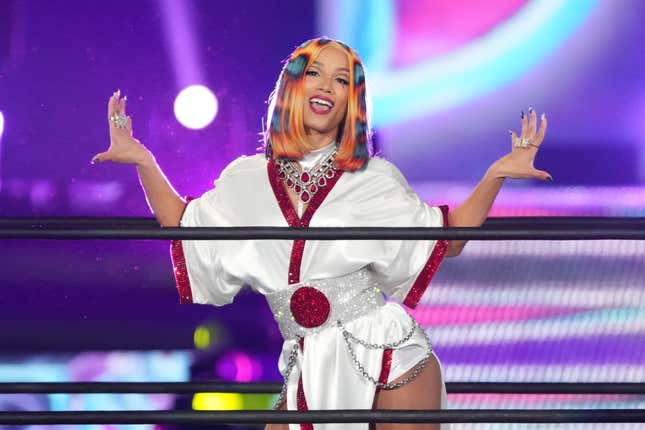 It was such a perfect setting for Mercedes Moné, the former Sasha Banks, to arrive on AEW Dynamite last night. It's not that Tony Khan could have possibly known ahead of time that the previous night, WWE would be awash in rumors and reports that they were selling to the Saudi PIF (later denied, though definitely with a "yet" or "for now") before his weekly show. And that it felt like the wrestling world was about to spin off its axis. But if he could have designed it, he would have had his competition thrown into either literal or hypothetical chaos, and then unveiled the one true star they let get away. The one they wouldn't pay. He would have proven what the alternative was, the safe haven as it were where everything was as it should be and the actual product was the absolute hilt.

Who walks out of Full Gear as AEW World Champion? | Predictions
And it also would have turned a new leaf for AEW, a cementing of the women's division as something he was taking completely seriously now, full of great wrestlers and burgeoning talent that was ready to take off behind the torch being carried by one of the greatest women's wrestlers ever. Maybe if Khan had known all this, the trigger would have been pulled sooner, if it's going to be pulled at all.
But no, Mercedes didn't show up last night in L.A. We all expected it, we had all convinced ourselves that it had to happen — and then it didn't.
AEW never told us that Mercedes was coming, of course. And while their style has always been to not directly say anything but wink so hard at the camera in the weeks leading up to it you wonder if they wouldn't pull a muscle in their face, they didn't do that quite to that extent this time. Sure, there was Britt Baker calling herself "The Boss" of the AEW women's division in a pre-taped promo. It was pre-taped, so they knew what they were doing, right? They announced this tag match weeks in advance, which is a departure from the usual on-the-fly nature of the women's division. It was after the first of the year when it became clear Mercedes was a free agent. Shows at the Forum in L.A. have been landmark Dynamites in the past. There were already huge matches on the card, so why not pull out all the stops, we said to ourselves. It was a week after Mercedes reappeared in Japan during Wrestle Kingdom. There were signs, just not the usual blinking ones that AEW has given us for big debuts in the past. We just made them in our heads. We took it and ran, even if the company wasn't giving us the normal amount of line.
So the question will be why didn't she show? Perhaps NJPW has insisted that her first match has to be on Feb. 18 on their show in San Jose. Perhaps AEW was sure of a deal that didn't quite materialize in time. Perhaps they have something else in mind. Perhaps she has no interest, and her work with NJPW and Stardom is all she's after. Maybe it's something else altogether.
Which is unfortunate, because Khan ran an absolute banger of a Dynamite when wrestling had become the epicenter of interest after Tuesday night's furor. On a different night, running three of the best matches the company has in the past year (Jon Moxley-Hangman Page, Konosuke Takeshita-Bryan Danielson, and the main event trios match that was the seventh between The Elite and Death Triangle) would have been the perfect antidote/counter/beacon in the morass of wrestling news. They were three types of matches you rarely if ever get on WWE TV, and perhaps in a different light would have once again changed the conversation between the two companies. And that might still happen one day soon.
Yet AEW fans can't help but feel an opportunity was missed, even if it was only reality in our heads. There was something of a pall on the show when the women's match didn't either lead off the show, or main evented, which is where you would slot such an unveiling. When it took the normal women's slot of just after the 9 p.m. hour eastern, you kind of knew what wasn't coming. And again, it's unfortunate, because the women's tag match was really good. And yet it was hard not to focus on what wasn't there.
But then, it was only there because we had convinced ourselves it was. That's ok, it's ok to get worked by wrestling sometimes. That's the point. You're not always supposed to get what you want, you're not always supposed to see what's coming and what's not. There was no way to know the setting would be quite what it turned out to be, and to turn out to be such an opportunity missed. Only AEW could put on such a great show and yet we're all left a little cold by what they didn't do. Victims of their own excellence, I suppose. Next time.
Connor McDavid wows again
Here's Connor McDavid turning Trevor Zegras into a smoothie, if that's your thing to kick off the morning:
That was McDavid's 35th goal of the season, he also collected his 44th assist, in just 43 games. That puts him on pace for 66 goals and 150 points this season, which are 1986 numbers. He'll turn 26 in a couple of days, which is really hard to believe. And on a nightly basis, he's turning everyone trying to stop him into pudding.
Donovan Mitchell returns to Utah
Perhaps it's good to end every so often with a reminder of the joy we once felt due to sports. So here's Donovan Mitchell arriving back in Utah for the first time since he was traded to Cleveland last summer.