When Roger Ebert died on April 4, 2013, it felt like a death in the family, not only because I'm a film critic, but because he and Gene Siskel are a huge part of the reason why. The different incarnations of their Siskel & Ebert show were instrumental in my upbringing, driving home the idea that movies weren't just these amazing things to experience yourself, but also something worth defending and debating with others. (Will Leitch and I started doing our annual "Top 10 Movies of the Year" lists as kids because of their show, and of course Will has written quite beautifully about Ebert's impact on him.)
I bring all this up not to assault you with yet another misty-eyed recollection of how ol' Rog changed my life—the web has enough of those—but to suggest that watching Life Itself, the new documentary about Ebert's legacy, isn't something I can do with complete objectivity. I never knew the man personally, but I knew the writing, and I followed the arc of his life as avidly as I would a favorite filmmaker's or musician's. (I haven't yet read the memoir that gives the documentary its name and whose excerpts are included throughout.) But to my mind, Life Itself has all the attributes of a superb tribute: It's affectionate, engaging, and thorough, and it features all the right guests to speak highly and knowledgeably about the man of the hour. And the areas where I might want to nitpick probably won't matter to those less intimately involved with the subject at hand. This is often the problem with being a fan, or at least someone who thinks he knows the material as well as the people putting the tribute together.
In the case of Life Itself, Ebert found an ideal steward to tell his story in Steve James. Not only are they both deeply connected to Chicago, but Ebert and Siskel were early and vocal champions of James's masterpiece, 1994's Hoop Dreams, even before its first screening at the Sundance Film Festival, giving that grand film the platform it richly deserved. James acknowledges the debt early on here—he appears as an offscreen narrator from time to time—but it's a credit to the director's modesty that he spends just a few seconds mentioning his own connection to the critic. Modesty and grace have been the hallmarks of James' subsequent films (The Interrupters, the underrated "30 for 30" doc No Crossover: The Trial of Allen Iverson), and those attributes fill Life Itself, which chronicles the last few months of Ebert's life while circling back to provide an overview of his biography, from his boyhood in Urbana, Illinois, to his college years at the University of Illinois (and running The Daily Illini) to his promotion to film critic at the Chicago Sun-Times to his pairing with Siskel on television, which made both of them the most famous reviewers in the country.
When James initially planned to make a movie about Ebert, he couldn't know how little time was left. After a 2002 cancer diagnosis, Ebert had struggled for years with different health issues, the most striking being a surgery in 2006 that required the removal of his lower jaw and left him permanently unable to speak. And yet, because of the sheer volume of his written work, his appearances at film festivals, and the publishing of his memoir in 2011, Ebert's voice seemed as strong as ever. But at the same time, his written words in those final years were flecked with wistfulness, with a sense of a man looking back as opposed to forward. He wasn't giving up, but he knew he was nearing the final act.
Life Itself is suffused with that sense of finality: This is one of those rare films that actually shows what the end of someone's life can be like. In James' initial encounters with Ebert, the critic (speaking through his computer rigged with an electronic voice program) seems in good spirits, but a hip fracture that occurred right before filming commenced in December 2012 leaves him struggling to recover. We watch Ebert go through physical therapy, surrounded by his wife, Chaz, and her children and grandchildren. (He and Chaz, who married in 1992, didn't have children of their own.) James doesn't sensationalize or sentimentalize Ebert's fading health: It's shown unadorned, and it's all the more harrowing because of it. (The stark image of a nurse sticking a tube in the space where Ebert's lower jaw used to be in order to provide suction is going to bother me for a good long while.)
G/O Media may get a commission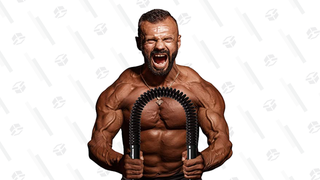 10% off
Zenooze Boa Power Twister
That starkness is juxtaposed with the richness of Ebert's personal and career journey. An only child with a sharp mind, he's described by his fellow journalists and friends as a smart-ass, an inveterate drinker (he got sober in the summer of 1979), a very competitive person, and an immense talent. None of this is particularly shocking or insightful, and I suspect it will be more useful to those who only knew Ebert from the TV show or the reviews, and had skipped his memoir or the many deftly written personal blog posts he wrote in the final years of his life, some of which are the best work he ever did. That's not so much a criticism as it is an acknowledgment of the limitation of this sort of tribute: Life Itself movingly and with loving care reiterates a lot that you may know already, reminding you why he made such an impact without necessarily adding a lot of new revelations.
Of the different chapters of Ebert's life depicted here, the most engaging by far is his decades-long association with Siskel. As the documentary makes plain, theirs were a classic oil-and-vinegar partnership: Neither man liked the idea that they needed the other to be a TV success, and as such, their on-air combating wasn't staged. But their fighting was about something beyond just winning an argument. The documentary forcefully makes the case that their bickering was in service to the power of movies, and a belief that movies were worth that sort of angry debate. Watching Life Itself is actually doubly poignant, because Ebert's death is a reminder of the sting of Siskel's own passing in 1999. I don't mean to dismiss the massive amounts of fine criticism Ebert wrote thereafter, but the special rapport he had with Siskel was even more evident after Siskel's death: That ineffable magic couldn't be duplicated with anyone else. (It doesn't seem like an accident that Ebert & Roeper isn't mentioned at all.)
Ultimately, Life Itself probably takes on too much for its own good. Beyond Ebert's backstory and his difficult final days, James also speaks with filmmakers whose careers were bolstered by Ebert's encouragement in print, from Errol Morris to Martin Scorsese. (The latter, one of Life Itself's executive producers, tells an amazing story about how Siskel and Ebert boosted his spirits during the 1980s when he was flailing—of the many Scorsese interviews I've seen over the years, I can't recall him being so close to getting choked up before.)
There's also, less compellingly, a look at the backlash against the success of Siskel and Ebert's TV fame. Not all film critics were thrilled with the show, accusing the two men of dumbing down the art of criticism with simplistic "thumbs up" and "thumbs down" rankings. It's an argument that cuts to the heart of the same movie passion that drove both men, and so it's disappointing that it's introduced and then dropped without a more vigorous examination. (I should also say that some of the Siskel & Ebert reminiscences will be familiar to those who read Josh Schollmeyer's terrific, exhaustive oral history of the show, Enemies, a Love Story. In the interest of full disclosure, Schollmeyer, a Life Itself co-producer, is one of my editors at Playboy.)
But many may not worry about such quibbles. Ebert's life is presented as a happy adventure toward sobriety, true love, and great movies, the movie's emotional wallop coming from its up-close depiction of his encroaching death. In his final days, Ebert is shown withdrawing from James, their email communication drying up as he begins to sense that there's no point in fighting anymore. We don't see that suffering onscreen, but the gradual silencing of his "voice"—his emails, his computerized voice—fills the movie with its absence in a way that's powerfully disquieting. (And Chaz's description of being present for his death is so vivid and mysterious that's it's nearly unbearable.) Life is more than movies; Ebert knew that. But he also understood that movies were a way for people to communicate with one another about all the stages of our existence: birth, childhood, college, marriage, divorce, loss, death, joy, war, pain, everything. Life Itself honors Ebert's many seasons, and it's a fine introduction to the man. But his writing may be even finer.
Grade: B+.
Grierson & Leitch is a regular column about the movies. Follow us on Twitter, @griersonleitch.