It's an important distinction to note that most criticism of the replacement officials is directed not at them, but at the league for forcing it to come to this point. We know the refs are doing the best they can; we know they're just not prepared. (More than getting the calls right, memorizing the rule book and keeping control of the game is hard. It takes years of experience.) So when a huge Saints fan gets slated to work a Saints game, that's the league's fault for not catching it in their "background checks." When a ref who received paychecks from the Seahawks for three years actually worked a Seahawks game, that was the league's fault too.
But this? If this is true, we might have reached the bottom of the professionalism barrel.
Eagles running back LeSean McCoy went on 94WIP in Philadelphia yesterday, and touched on how the refs tend to be intimidated and influenced by players and crowds. Not a surprise—this week, 14 of 16 home teams won their games. But he also gave an example of how the replacement refs seem more like contest winners than hardened employees.
"They're like fans, kind of though. I'll be honest, they're like fans. One of the refs was talking about his fantasy team, like 'McCoy, come on, I need you for my fantasy [team].'"
G/O Media may get a commission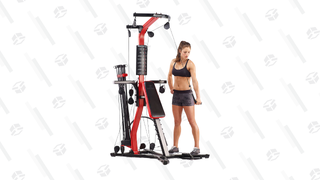 31% Off
Bowflex PR3000 Home Gym
Fantasy football, unlike betting, isn't specifically prohibited. But fantasy can have some big money attached—and replacement refs could be the rare fantasy players who actually have a say in the outcomes of games. If McCoy is telling the truth, we've got a major problem with the scabs. Well, another major problem.