Frontline, the fine folks who brought you League of Denial, run a nifty little database called Concussion Watch, where they've kept a detailed count of all reported concussions across the NFL since 2012. You should check it out; it's interesting to click around and look at the recent history of concussions and the concussion protocols.
Even after three full regular seasons, the sample size is probably too small to draw any definitive conclusions about how different organizations use protocols, but there are certainly some interesting disparities in the number of reported concussions, and the cost—in terms of games missed—of those concussions.
An example: Over the past three seasons, the Jaguars have reported 21 concussions, and those concussions have cost the team 53 player games. Over that same period of time, the Dolphins have reported five concussions, and those concussions have cost the team just two player games. If nothing else, the Jaguars have had a hell of a time with concussions compared to other teams, along with, you know, every other bad thing. Poor fuckin' Jaguars.
The Ohio teams have been hit hard by concussions, too, relative to their divisional opponents in Baltimore and Pittsburgh. The Browns have lost 24 players games to 22 concussions; the Bengals have lost 10 games to 26 concussions. Meanwhile, the Ravens and Steelers have lost a combined four games to a combined 24 concussions. In fact, Baltimore's 17:1 ratio of concussions to games missed is the most lopsided in the NFL. Again, there's no way of knowing whether this represents luck or roster mechanics or anything else, but it certainly raises further questions.
Last weekend, when the Steelers reportedly returned Heath Miller and Ben Roethlisberger to their playoff game before they could go through proper protocol, my mind leapt immediately to Pittsburgh's concussion history, in which just seven concussions have been reported across three seasons, costing the Steelers just three total player games. There's not nearly enough information for any sort of indictment, but this information may eventually help illuminate the rate of deployment and efficacy of the NFL's concussion protocols across the league. If nothing else, these instances of NFL teams allowing players back onto the field after they've suffered possible brain injuries raise serious questions about a system in which concussions are handled by individuals within NFL organizations, or even the NFL itself.
G/O Media may get a commission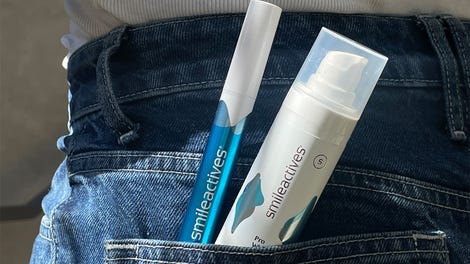 58% off
Whitening Powerhouse Pen & Gel Duo
Anyway, check it out. There's some great information in there.
Other Sports
12:55 p.m. — beIN Sports — La Liga Soccer: Granada vs. Real Sociedad
Ah, yes, the weekly meaningless La Liga tilt between bottom-feeders. How you have kept us afloat through these many weeks.
1 p.m. — ESPN2 — Women's College Basketball: Kentucky (10) @ South Carolina (1)
Hey, a matchup between #10 and #1 is good programming in any sport.
1:30 p.m. — CBS — Men's College Basketball: Duke (2) @ NC State
This will probably be a massacre, but Duke's on the road in the ACC and you never know.
2:55 p.m. — beIN Sports — La Liga Soccer: Barcelona @ Atlético Madrid
Hey now! These two sides are tied in points and separated only by goal differential, and Barcelona are a relative mess these days. I do believe this qualifies as a must-see.
3 p.m. — ESPN2 — Women's College Basketball: Maryland (12) @ Minnesota (23)
Break open in case of emergency, is what I'm saying.
3 p.m. — NBA League Pass — NBA Basketball: Wizards @ Hawks
This should be terrific. The Hawks (the Hawks!) might just be the best team in the NBA right now, and they beat up on Washington in their last matchup. However! The Wizards have recently taken down the Rockets and Bulls and are playing terrific basketball, led by John Wall, who, by now, would surprise literally no one if he sprouted wings and took to the skies in the middle of a third-quarter fast break. His numbers are impressive enough, but he kinda needs to be seen in order to appreciate the fullness of his two-way brilliance this season. If he finishes the season averaging better than 10 assists, 2 steals, and half a block per game (and he will), he will join Magic Johnson as the only two players in NBA history to ever pull that off. Everyone should be watching this game. The Hawks are wonderful, the Wizards are feisty as hell, and it's a meaningful division matchup.
3:30 p.m. — NBA League Pass — NBA Basketball: Heat @ Clippers
The Clippers got healthy as shit yesterday against the Mavericks and return home to take on a Heat team that seems like it can only get up for a game maybe twice a week. When they play well – when Chris Bosh and Dwyane Wade are dialed in – they're a force. If that happens today, this game should be a good one. That's a huge "if."
5 p.m. — Golf Channel — PGA Tour Golf: Hyundai Tournament of Champions 3rd Round
From Hawaii. Hawaii, you guys. There are people in Hawaii right now, as you sit there in your long underwear and earmuffs like a goddamn jerk.
6 p.m. — NBA League Pass — NBA Basketball: Suns @ Grizzlies
Another great, appointment-viewing Sunday NBA game that can't get national broadcasting because NBA TV won't dare counterprogram the NFL. Dammit.
TV Reruns
1 p.m. — BBC America — Top Gear
Back-t0-back hour-long episodes won't get you completely through the opening game, but it'll get you most of the way.
1 p.m. — LOGO TV — The Golden Girls
Every time I've ever looked in a hand mirror I've thought of the moment when Blanch figures out that looking down into a mirror makes her look old and wrinkled and has a total meltdown. Man, Golden Girls was a funny-ass show.
2 p.m. — TV Land — Roseanne
The regular Sunday afternoon marathon. Good shit.
4 p.m. — FXX — The Simpsons
No good episodes today, I'm sorry to say. If you're one of the sad people who enjoyed The Simpsons even after it stopped being a good show and became the pre-Family Guy Family Guy, tune right on in.
Movies
12:15 p.m. — Sundance — The Princess Bride
I heard once that most of the Miracle Max sequence was improvised by Billy Crystal. I hope that's true. The "MLT" line gets me every time.
3 p.m. — SyFy — Terminator 2: Judgment Day
I'm not saying Cowboys fans should be shot with a grenade launcher into a vat of molten metal, but I'm certainly not not saying it.
3 p.m. — BBC America — The Exorcist
Hell yeah, BBC America! Apparently scaring ourselves when we know we're safe releases a "cascade of feel-good neurotransmitters" that our bodies interpret as a positive experience. So! Watch The Exorcist for your health and well-being. It's good for your brain! Like carrots, or whatever.
Or, you know, you could watch The Exorcist because it's the goddamn champ.
3:30 p.m. — FX — Looper
Again? Again?? Again.
4 p.m. — abc Family — Willy Wonka and the Chocolate Factory
Charlie has the worst goddamn hair in this movie. He and Gene Wilder have the same awful barber or some shit.
4:30 p.m. — AMC — The Departed
I've had fairly intense family arguments about whether The Departed is, in fact, better than Goodfellas. I am squarely and permanently on the "Hell No" side.
4:30 p.m. — TNT — The Dark Knight Rises
SPOILER ALERT!
How in the hell does Batman escape the blast at the end. He ejects? He is shown in the goddamn cockpit five seconds before the NUCLEAR BOMB goes off. He ejected and got clear of the blast radius and all the fallout and shit in five fucking seconds? Get the hell outta here, Christopher Nolan. Dick.
5 p.m. — LOGO TV — Clue
This stupid-ass movie is a goddamn blast. Tim Curry is awesome.
6 p.m. — SyFy — Independence Day
As Greg Howard might say, this movie is basura.
7:15 p.m. — Sundance — Midnight Run
Dipshit idiot Bill Simmons once went on about how much better this movie would have been if The Duke had been played by Robin Williams. Which is insane! Are you fucking kidding me? This excellent grownup comedy needed the unhinged antics of crazy-ass late-80s Robin Williams? That's the dumbest shit I have ever heard.
7:30 p.m. — FXX — Pirates of the Caribbean: The Curse of the Black Pearl
Meh.
Enjoy your Sunday, everyone.