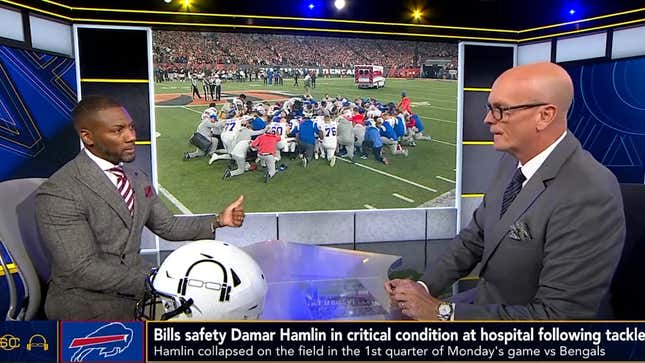 Scott Van Pelt knows how to advertise himself after developing a loyal fan base after more than two decades on ESPN's airwaves. The Marylander's Twitter bio says it best, he anchors the network's flagship show, SportsCenter, starting at midnight on the East Coast. Or after the game you're watching ends, whichever is later. One of his frequent in-person guests is Ryan Clark, who joined ESPN in 2015, the same year Van Pelt first cemented his spot anchoring the late-night SportsCenter telecast. The veteran talk-show host and longtime NFL defensive back turned broadcaster finished their Monday night broadcast as the date switched to Tuesday in the Eastern Time Zone due to the horrific injury of Bills' safety Damar Hamlin. 
Black Quarterbacks = Big NFL Ratings | The SEO Show
The duo was tasked with the impossible — putting into words in real time the shock, sadness, anger, and humility of the unprecedented nature of a football game stopping nearly 10 minutes in because a 24-year-old, second-year integral player needed to be resuscitated near midfield. It was a shift from covering games to detailing a crisis. Clark and Van Pelt pulled off being handed the reins from the network that aired Buffalo's game against Cincinnati after coverage of the event ceased. While behind the scenes how quickly Van Pelt went from around three hours to showtime to camera-ready is unknown, the impromptu nature didn't stop him from commandeering what might be the most important SportsCenter broadcast of all time. The lack of real-time information being sparse but interest from around the world is only growing. It didn't lead to speculation and any other brand of tomfoolery that only would've stoked the "what could be" beliefs, not the grave, confirmed reality.
That's exactly why Van Pelt's direct questioning and Clark's heartfelt answers mattered so much on a night that pierced through sports fandom as a whole. In 2007, Clark was rushed to the hospital as a member of the Steelers and had his spleen and gallbladder removed, ending his season. The removal made Clark lose around 30 pounds and he never played another professional game in Denver, where the pain in his left side that led to his emergency room trip occurred. The event clearly still weighed on Clark, as he explained the fragility of life in the context of Hamlin. Football wasn't the most important thing to anyone at that moment, even someone like Clark, who dreamed of the NFL, lived his fantasy for over a decade and has been analyzing it for ESPN for several years since he retired on his own terms.
Through Clark and Van Pelt's conversation, they clearly explained why not playing another down at Cincinnati's Paycor Stadium was the only move on Monday night. Clark explained how his mom was a prayer warrior and she's in church "eight days a week." Clark conveyed she wasn't only praying for Hamlin and his family, but everyone. No matter how religious you are, hearing those words in one of the most heart-wrenching sports moments in several years mattered and moved me. The peeps from Skip Bayless, who equated Hamlin's condition with the importance of NFL playoff races, and others more worried about their fantasy football championships were muted. The explanation of football being a highly emotional game with collisions looking like car wrecks every Sunday not piercing through the entire league in contrast to Monday's stoppage should tell you how unprecedented having a player fight for his life on the field is.
Van Pelt and Clark led the way for a majority of ESPN's allotted time for Monday Night Football, but the work of Lisa Salters, reporting from the Paycor Stadium the sidelines on the verge of tears and Stephen A. Smith joining the broadcast for a segment needs to be recognized as well. Suzy Kolber, Booger McFarland, and Adam Schefter did great work in the studio prior to the game being officially suspended with limited information at their fingertips. McFarland's line "We're done playing football tonight. Let's move on. We as a network will figure out something to do," set the table for the rest of the evening. ESPN's Coley Harvey, Alaina Getzenberg, and Ben Baby all nailed their spots too.
Donovan Mitchell scoring 71 points in a single game didn't get a mention. Even other football topics, such as LSU's 63-7 bowl victory over Purdue weren't either. And the leadership from Van Pelt and Clark kept football fans engaged and enlightened in the most unique of circumstances. The grandeur of the moment wasn't lost on the duo, who made sure to thank the others for their assistance in making it through the broadcast. It'll be a bond they won't ever forget. I'm sure many football fans who were comforted by their words won't either.