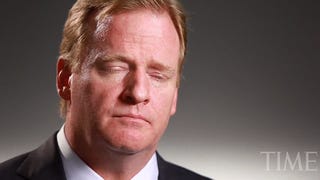 With the NFL draft now upon us, we feel it's only appropriate to present this scouting report on commissioner Roger Goodell. What follows are the assessments of various NFL players, plus one television executive, and one online dictionary.
Roger Goodell
Commissioner
Washington & Jefferson
Grade: F

Notes: "Stupid" ... "The truth is, I'm disappointed in him." ... "Shoddy" ... "Shameful" ... "I've got to admit, the condescending tone really sent me over the edge." ... "A joke" ... "Fraud" ... "His actions or lack thereof are by the league's own definition, 'conduct detrimental.' " ... "Crook" ... "This is an absolute abuse of the power that's been afforded to the Commissioner." ... "Punk" ... "The league office and Commissioner Goodell have very little to no credibility with us as players." ... "Puppet" ... "Faggot" ... "How in the hell can u pay a man this much money that cant run tackle or catch. Roger Goodell is getting over never seen anything like it 20 million for looking over the league with tremendous help I guess the NFL is banking. the players make this league dont ever forget that." ... "Devil" ... "Liar" ... "Blatant liar" ... "Full of it" ... "He just comes across as uncompromising." ... "The worst" ... "Cold son of a bitch" ... "A dictator" ... "Dictator" ... "Gestapo-type" ... "Dad"