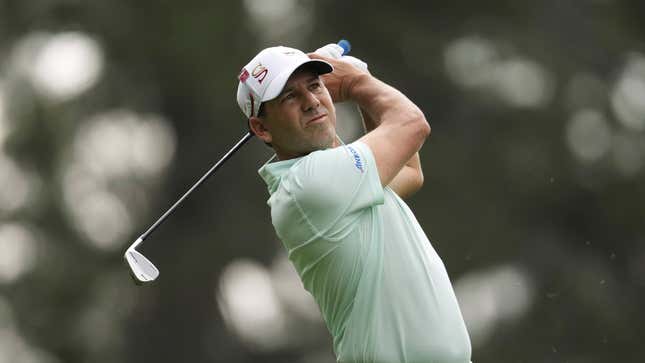 The Masters, for the foreseeable future, will be about more than who just gets an unwearable blazer. While the chase for the green jacket will take up most of the story, because it is the only major that can't ban golfers who joined the LIV tour — or won't — then it becomes something of a temperature check/referendum on the state of the professional game as a whole. It can't be helped, and yet all the players who decided to take Saudi Arabia's blood-soaked money are nearly pulling both hamstrings running from any questions about it.
Air Jordans are more American than McDonald's French fries | Deon Cole's Ultimate Sports Fantasy
Sergio Garcia was the latest to throw all of his toys out of the pram when he was asked a simple question after his opening round. The question was simply asked if it felt normal to be back at Augusta, and he then went to the normal playbook of blaming the media for all the controversy. It's never any of these guys' fault, of course. Everything would be fine if the pesky media, and this is the golf media we're talking about — which isn't exactly Woodward and Bernstein — would just leave these poor guys alone.
Garcia is hardly alone. Phil Mickelson, who skipped out on last year's Masters altogether so he wouldn't actually have to be in front of a microphone to answer why he had basically become a spokesman for the LIV Tour, is in Georgia this time around but is still ducking any questions he can. He even lost weight so he's more evasive (not really but let's pretend). Bryson DeChambeau, never too shy to be the world's biggest ass-boil, has been decrying his treatment for months. As far as anyone can tell Greg Norman lives in a bunker.
What's most galling, though not really all that surprising, is that this is the path these guys chose. No one made them leave the PGA Tour simply for an ungodly sum of money from an evil government for a tour that really has no chance of standing on equal footing with the PGA Tour. Pro golfers will never be confused with the greatest thinkers of our time, but surely there was an agent or confidant around to explain to them what might happen should they jump ship.
But nothing is ever really a golfer's fault, is it? It was that gust, or that lie, or that break, or that fan blowing their nose at the wrong time, or that camera, or that layout, or whatever else. You'd think at least one of these guys would just pull a, "I'm rich, biatch!" in front of any microphone and to any question, considering that was the motivation in the first place. What the fuck do these guys honestly care?
It's not enough to get all the money in the world. Everyone has to pat you on the back for it too, no matter how you went about it.
Look at this pitch
In the latest exhibit of how pitchers are not really of this Earth, we present Dustin May last night:
Just what the fuck is any hitter supposed to do with this? It's 100 miles an hour and moved a foot and a half to essentially move from the outside corner to the inside. It's somewhat surprising hitters don't run from the box screaming for an exorcist as much as trying to get a piece of wood on it, which they basically have no hope of doing.
Baseball can juice the balls and rules however they like, and they have, but until they find a way to keep so many guys from doing shit like this, hitters are up against it and will just try to maximize the rare contact they can make. And May is the Dodgers' second or third starter. He's not even the best they have, at least not at the moment.
It ain't easy when you're goin' down…on strikes.
---
For a transcript of Sam's thoughts, you can send $20 to @Felsgate on Twitter. You won't get a transcript, because that's what this is, but he'll happily take your money for nothing.