"He's pooping his pants," one fan yelled as Sergio Garcia backed off a shot on 10. Garcia bogeyed 10, bogeyed 11, and, already down two strokes, bounced his drive off a tree and into the bushes on 13. Somewhere in that stretch, the same thought crossed the minds of every single person watching: He's doing it again.
But was Garcia thinking it too?
Long-term narratives have a place in individual sports that don't quite fit into team sports, as much as we try to impose them. A team's identity and composition changes, and simple patterns are flukes of luck rather than actual characteristics. The Cubs' World Series drought was not a thing with an explanation, because the Cubs of the '40s were not the same as the Cubs of the '80s. But in golf, where all that changes over time is the competition, you are who you are. It is not mysticism to say that Sergio Garcia hadn't won a major in 73 tries, and racked up a litany of final-day chokes because he dealt poorly with pressure. Nor is it useless pop psychology to note that the failures compounded, with every collapse surviving as memory and distraction each time a new opportunity for collapse presented itself. "It's always nice when you're young," Garcia, 37 years old and nearing grand old man status on tour, said last year, "and the scar tissue is not that thick."
By now you know that Garcia, in the 73rd hole of his 74th major, finally did it. He beat Justin Rose in a playoff to win the Masters, a victory that looked like it'd never happen. But that's the thing with absolutist narratives: All it takes is one exception to kill them forever.
What changed for Garcia on this Sunday? His quotes from after the round carry a sense of fatalism that, in earlier years, might've sounded like surrender. Now they sound zen.
"In the past I would have been going, you know, [complaining] at my caddie," Garcia said of his shot on 13 that found the azaleas. "You know, why doesn't [the shot] go through and whatever.

"But I was like, well, if that's what is supposed to happen, let it happen. Let's try to make a great five here and see if we can put a hell of a finish to have a chance. And if not, we'll shake Justin's hand and congratulate him for winning."
G/O Media may get a commission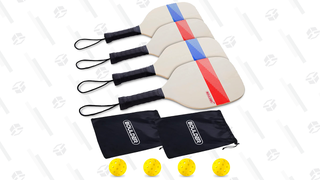 It's Pickleball
Pickleball Sets
Can I interest you in something that sounds almost like—dare I say?—optimism, from the man whose track record at majors provided absolutely no reason to feel anything but prematurely defeated? Garcia got his par five on 13, thanks to a pair of perfect shots to set up a makable par putt, and then told himself "unless Justin started making birdies left and right, I would probably have my chances."
He got them immediately. A birdie on 14 and an eagle on 15, thanks to this unbelievable second shot that glanced off the flagstick.
That left a 15-footer, and just like that, Sergio was back square with Rose, and you tell me: How much of that fist pump was excitement and how much was relief?
When it was all over, all of it, 18 years of it, Garcia said he had been "much calmer than I've felt in probably any major championship on Sunday." So again: What changed?
For what felt like the first time, Sergio was the fans' favorite. All day, the gallery was firmly, audibly on his side, cheering his shots with increasing fervor, wearing its heart on its sleeve as Garcia missed a five-footer to send things to the playoff then erupting when he finally closed it out. It was maybe the most unexpected happening of the day—even more unexpected than Sergio wearing a green jacket?—and Justin Rose took notice.
"You know, good for Sergio," Rose said. "Often he feels like he's not supported the way he would like to be in America, and it was encouraging to see the crowd get behind him. I think that they realized he paid his dues, and they realized he's been close so many times. Obviously people felt strongly it was his time."
The long antipathy to Garcia is a complicated thing, and can't be discussed without discussing Tiger Woods. There was disappointment that Garcia never quite lived up to his early promise as a true rival for Woods, a role he never asked for, and which countless others have been thrust into and found wanting. There was Garcia's willingness to call out the PGA for giving Woods special treatment. There was the "fried chicken" comment in 2013, the capper on a long feud that had by then become truly acrimonious. Garcia was always defined in opposition to Woods, sometimes by his own doing and sometimes not, and being in opposition to the man who carried golf for a decade necessarily makes you the bad guy.
Both Garcia and Woods have tried in recent years to put the feud to bed, and Tiger's absence from the tour and the mellowing of both with age have largely accomplished that. Without Woods around, Garcia has been allowed to be defined by his own terms, and those terms have proved largely sympathetic. He's a veteran now, and a guy who's paid his dues of failure many times over. If golf is a drama, Sergio debuted as an antagonist to be defeated by Woods, the hero, and by his own flaws. Without Woods, Sergio could be a protagonist, but he only ever seemed to star in tragedies. It's natural that falling short, repeatedly and painfully, would gradually garner compassion. Somewhere along the line, American crowds decided that he had done penance enough, and that a redemption story would be the greatest drama of all. If this Sunday was different, if Sergio Garcia was at peace with himself for the first time in a career of majors, if he was for once the hero of this story, it's an ending he earned.