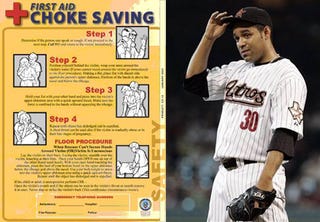 Time is running out to claim Shawn Chacon on waivers! Act now, and you will receive one slightly used Major League pitcher, ERA just above 5.00, with a tendency to throttle when perturbed. Buy it now price: $2 million. Chacon was put on waivers Thursday by the Houston Astros, one day after and unfortunate incident in which he accidentally choked general manager Ed Wade and threw him to the ground in front of dozens of witnesses. Allegedly. Yankees? Your move.
The Astros have indicated that if another team doesn't claim Chacon by Monday, they'll release him and terminate his contract. The player's association will have absolutely no problem with that whatsoever! "Based on the information we have to date, we believe the Astros' response violates the Basic Agreement," union general counsel Michael Weiner said. "If Shawn Chacon clears waivers and is released, we will pursue appropriate relief on his behalf." If Chacon is released Monday, $983,607 of his $2 million salary would be in dispute.
Chacon's agent, Dan Horwits, said he would wait to see if his client clear waivers before he addresses whether a grievance would be filed. "This is America, you always get a second chance," Astros pitcher Wesley Wright said. "Hopefully things will work out in his favor and our favor and after ties are cut with the Astros he can move on somewhere else and be successful." The good news: Pitcher Runelvys Hernandez was called up from Class AAA Round Rock to take Chacon's spot on the roster.
• Walkabout. Albert Pujols was 4-for-4 in his return, but the Cardinals lost to the Tigers 3-2 when Clete Thomas drew a bases-loaded walk in the 10th. Way to spoil Will's last day, Leyland. St. Louis reliever Mike Parisi (0-4) gave up a leadoff single to Curtis Granderson and intentionally walked Carlos Guillen and Miguel Cabrera before Thomas drew his second run-scoring walk of the day.
• Sing A Sad Song For Phils . Oakland's Rich Harden (5-0) struck out 11 and retired the first 14 batters before giving up a clean single to Shane Victorino, the Athletics beating the Phillies 5-0. Harden gave up two hits over eight innings.
• Wizard Cat Defensive Player Of The Day. Cody Ross, Florida Marlins. Great catch, but Cody Ross was certainly not bothered by any unruly fans in the outfield on this grab near the fence in center. It looks like a scene from I Am Legend. Wizard Cat gives this catch: Four wands. Wizard Cat gives Marlins fans: Zero wands.