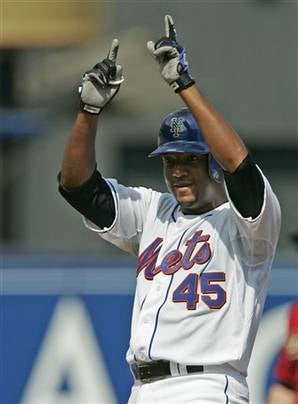 Who was out at Shea yesterday for the big Pedro Lovefest '07? Faith and Fear in Flushing, for one, which is so giddy over their hero's return that they are declaring September the Mets' Second Spring. Pedro Martinez turned in his second strong outing following his return from the DL, lifting the Mets to a 4-1 win over the Astros on Sunday.
Moises Alou had a two-run homer for the Mets, winners of eight of nine since being swept in a four-game series at Philadelphia. With a six-game lead over the Phillies, it's pretty clear that this race is over. But should Pedro's return signal the printing of World Series tickets in New York? Let's hold up on that kind of talk ... Pedro has pitched only 10 total innings in his two starts since his return; strong outings, yes, but coming against the Reds and Astros. He also had a double on Sunday. If you're like me, don't you have the feeling that the Mets are playing a little over their heads right now? No? OK, forget I mentioned it.
• Red Invasion. Josh Beckett went seven innings to earn his 18th win as the Red Sox beat the Orioles 6-3. Mike Lowell drove in two runs for Boston, which always seems to draw more fans at Camden than the Orioles do, or at least sometimes it seems that way. The Red Sox finished 6-3 in Baltimore this year and has had a winning record at Camden Yards every season since 1998, going 54-23 during that span, according to AP.
• No, Can't Call This One Yet. The Yankees all but punched their ticket to the playoffs as Alex Rodriguez hit his seventh home run in five games and his ninth in 11, New York beating Kansas City 6-3. The Yankees are four games ahead of the Tigers in the AL wild card, and 5 1/2 behind the Red Sox in the AL East. On second thought, this isn't over yet.
• Alone Again, Naturally. Rickie Weeks, J.J. Hardy and Ryan Braun hit consecutive homers to start the game, making Milwaukee the third team in major league history to do so. The Brewers beat the Reds 10-5, while the Cubs were losing to the Pirates 10-5, giving Milwaukee a one-game lead in the NL Central.
• Giants 4, Dodgers 2. The Dodgers didn't do themselves any favors by dropping a series to the Giants, finding themselves 5 1/2 behind the front-running Diamondbacks in the NL West.