The Jets wanted to land Kirk Cousins, and they reportedly offered even more than the Vikings did to get him. After that fell through, they immediately turned to Plan B, which involved re-signing Josh McCown and adding Teddy Bridgewater. At first glance, it looked like the Jets spent $15 million for some half-assed patchwork. But I swear there's a logic to this—and it goes deeper than simply maintaining the Jets' longstanding dynasty of quarterback mentorship. The real work still has to be done, though.

McCown is 39 and meh. It took a career year from him in 2017 for the Jets to win five games before their offense reverted into the slapstick act they were widely forecast to become. The Jets got credit for exceeding expectations last season, but this was always the lowest of low bars to clear; if anything, they benefited from the might-go-winless narrative, since anything better could be spun as some kind of progress, no matter how ephemeral it actually was. They changed the culture, or so we were told, even as Muhammad Wilkerson, their highest-paid player, wound up marking time until he got benched and then released. McCown keeps earning praise for his intangibles and for being some kind of locker-room soothsayer, even though his presence has never done a thing for the development of a young quarterback (and certainly didn't do jack shit for Bryce Petty and Christian Hackenberg).
The Jets decided to stick with head coach Todd Bowles and general manager Mike Maccagnan, whose three years together haven't produced much in the way of tangible progress. It's hard not to view the contract extensions both received in December as a desire for continuity for the sake of continuity. It's as if the Jets were determined to show the world they're not the Browns by simply refusing to copy the Browns' blueprint of constantly cleaning house. Plus, Bowles often coaches scared, and Maccagnan entered this offseason with a roster full of as many holes as the one he inherited from John Idzik—even after two drafts with the No. 6 pick, the same spot the Jets find themselves in again this spring. Maccagnan's three drafts haven't produced much, and with Petty and Hackenberg, he has even whiffed twice at attempts to find a QB.
So what's the point of bringing McCown back for a reported $10 million, while also adding Bridgewater—who will have gone nearly three years without playing a meaningful snap*—for an additional $5 million? Consider the QB market, and what the Seahawks and Eagles—two franchises that have both won Super Bowls in the eight years since the Jets last made the playoffs—did as part of their respective plans.
The $15 million the Jets are forking over for McCown and Bridgewater might seem like a lot. But view that price in context: It's the same average per year the Bears gave Mike Glennon last year, and it's right at the bottom of the market for starting quarterbacks. The Jets got two QBs for that price, with no financial commitments whatsoever beyond 2018. For a team that entered free agency with a league-high $90 million-plus in cap room, it's not a significant investment. The key to understanding what the Jets are doing is to realize they aren't done investing in quarterbacks. This is where it's instructive to look at what the Seahawks did in 2012 and the Eagles did in 2016.
G/O Media may get a commission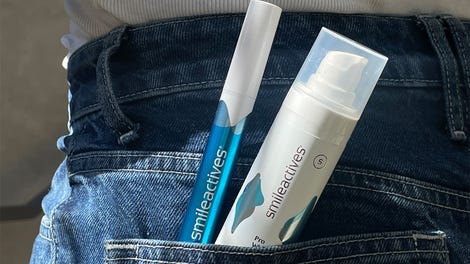 58% off
Whitening Powerhouse Pen & Gel Duo
In March 2012, the Seahawks signed Matt Flynn to a deal that maxed out at three years, $26 million, with $10 million guaranteed. They also still had Tarvaris Jackson, who had started 15 games for them the previous season. Yet they nonetheless went ahead that spring and drafted Russell Wilson in the third round. Wilson won the job in training camp, and Jackson was traded that August for a pick Seattle later flipped to the Vikings as part of a trade package for wideout Percy Harvin. At the end of Wilson's second season, Seattle won the Super Bowl.
Then there were the Eagles. In March 2016, they signed Sam Bradford to a lucrative extension with $22 million in guarantees. They also signed Chase Daniel to a multi-year contract. Then, they maneuvered up to draft Carson Wentz, who wound up winning the job in camp. When Bridgewater got hurt just before the start of the season, the Eagles traded Bradford to the Vikings. Last March, the Eagles dumped Daniel and signed Nick Foles. You know the rest of that story. The Eagles paid a steep price in draft capital to jump from No. 8 to No. 2 to pick Wentz. The Jets don't have to move up quite as far, and they have eight draft picks to work with this year, including two in the second round, plus all seven of 2019's selections. That's more than enough ammo to maneuver up the board, should they want to do it badly enough.
Clearly, there are ways to get a rookie QB enough reps in training camp even with a pair of veterans around him. Hell, the Jets already did this last year, when McCown basically stepped aside after the first preseason game to allow Petty and Hackenberg the chance to spend the rest of the summer stepping on rakes.
By signing McCown and Bridgewater, the Jets have purchased some veteran quarterback depth. They can use that depth as insurance, a trade chip, or both. The Jets have also already spent some of their cap surplus at cornerback, running back, center, and inside linebacker, without splurging on older players, as they did during Maccagnan's first offseason. What they still have to do is draft a quarterback this spring, be it by holding pat at No. 6 or by trading up or down. The only problem with this plan is that's the part they damn well better get right.