We've been following the Clemson-South Carolina football bet killing very closely, as only now are telling details being leaked to the press. Instead of going over the original story again, we'll just mention that a 42-year-old guy named Jimmy shot a 43-year-old man named Ricky in the chest because of a $20 bet on the game. Frankly, we don't know how something like this could have happened, especially in light of these excerpts from the Charlotte Observer story:
• Metts said Johnson's wife and several friends told police that Johnson then said: "You can't shoot me, I'm invisible."
• The men had gone deer hunting together the morning of the shooting, police said, and they were dressed in camouflage as they watched the game with friends.
• "It's always been football and NASCAR," said Quick's sister, Ann Marie Quick.
• Quick didn't attend USC but always supported the team, said Quick's mother, who declined to give her name.
G/O Media may get a commission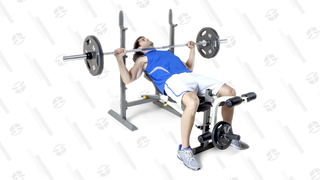 10% Off
Marcy Folding Weight Bench
• "My nephew was with him every day," she said. "He always talked about how Rick showed him how to skin 'coons and deer."
• Adam Branhan, 16, said he met Johnson at the beginning of the summer, when Johnson let him swim in his pond.
Curiously, "They loved to listen to NPR," "Jimmy was into recycling" and "Police identified Quick's minivan by the Dennis Kucinich stickers" were not among the comments.
$20 USC-Clemson Bet Led To Killing, Police Say [Charlotte Observer]
Yet Another Death You Can Blame On Steve Spurrier [Deadspin]