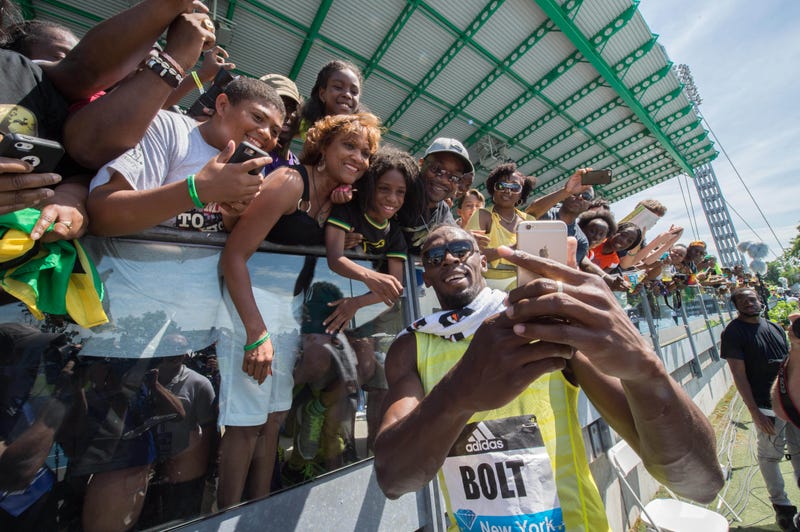 At the Adidas Grand Prix track meet in NYC this past Saturday it was warm (brutal for the distance events) and windy (sprints suffered), so there was a little something for everyone.
This was an IAAF Diamond League meet; that means quality. The IAAF puts significant money (both appearance fees and purses) into luring top-notch fields to Diamond League meets, so fans get to see Olympic-quality competition without waiting until 2016, and athletes get to earn some money—they'll perform for free if they make it to the Olympics. Being invited to a Diamond League event is pretty big; winning a Diamond League race comes only behind making a World Championship or Olympic team, or setting a national or world record. There are 14 Diamond League meets around the world between May and September, and only two in the United States.
For U.S. athletes, this meet provided a pretty good indication of their fitness heading into the U.S. National meet held June 25-28 in Eugene, Ore. If an athlete has posted the IAAF qualifying standard and finishes within the top three in their event at Nationals, they're eligible for the World Championship team that will be held in Beijing on Aug. 22-30. So this meet was an important mid-season benchmark.

If you were in the refreshment line or otherwise engaged, here are some takeaways.
1. Bolt fizzled. I'm not talking about the world record holder's relatively slow time in the 200 meters (20.29). He had excuses: There was a brisk headwind. And he admitted to running a "horrible curve." And he wasn't in the best shape of his life. And, he didn't mention this to the press, but the calendar indicates he's 28 years old, which is nearly long-in-the-tooth by sprint standards (talking about world-leading, former doper, 33-year-old Justin Gatlin here would just be too too cruel). Altogether, it was a terrible, horrible, no-good, very bad day all around for Usain Bolt. Fine, they happen. I'm disappointed by the fact he couldn't keep his champion head in it for 20 seconds. He eased up the last 20 meters, only putting out enough effort to beat (barely) 18-year-old Zharnel Hughes. Bolt said later that he was so frustrated he gave up before the end of the half-lap race.

2. U.S.-born people can beat Africans in distances—it's True! Ben True, Dartmouth '09. The North Yarmouth, Maine native has done the supposedly impossible—not once, but on three separate occasions. And still, when the subject comes up of how on earth we're going to beat those blade-like guys from Kenya and Ethiopia, there's a lot of sighing and expectant eyeballs on the usual suspects—Meb (old) or Ryan Hall (Job) or Galen Rupp (baggage). By becoming the first U.S. man to win a Diamond League 5,000 meter race, True proved that it can be done without a whiff of rumor. A few weeks back, True out-roadraced three of Kenya's finest—Stephen Sambu, Geoffrey Mutai and Wilson Kipsang—to win the unfortunately named Healthy Kidney 10K in NYC. And in 2013, he finished sixth in the World Cross Country dash through the mud, leading his U.S. compatriots to a second-place team finish—get this—ahead of Kenya! There's hope for U.S. men's distance running; you just have to know where to look for it. Try New Hampshire, where True trains by himself.
3. Boris Berian = 800 meters. Cement this association. In 1 minute, 43.89 seconds, Berian went from obscurity to world class, finishing second, a step-and-a-half behind world record holder David Rudisha. Berian is not sponsored. Yet. A year ago, the 22-year-old was flipping burgers in a McDonalds and training by himself in Colorado. Five months ago, his best at the 800-meter distance was an unremarkable 1:48. Unfortunately, he's still unknown because the announcers at this meet felt it was not worth mentioning that an American pushed David Rudisha all the way to the wire in a U.S.-leading time. I will address meet coverage below, and Berian's story in a separate post.

4. Heads-up to NBC and USATF-TV—I'm only interested in seeing track and field athletes actually running, jumping, or throwing. Someone is doing those things at all times in a professional meet like this, so there's no need for the camera to focus for long minutes on pre-race fidgeting or post-event panting because that means we're missing actual track and field. We at home don't often see every lap of the 5,000 or 10,000 meters, which is OK, but the video editors at this meet cut away from the roughly three-and-a-half minute men's 1500 to show long jumper Will Claye encouraging the crowd to clap, jumping, walking off shaking his head, making unsatisfied facial expressions, sitting down, untying first one shoe and then the other...all this while there was a race going on.
Other beefs: we heard the crowd rhythmically clapping and the commenters talking about high jumper Blanka Vlasic's last attempt at goal-post height, followed by a stadium-wide cheer, all while looking at an image of the track from space. If ever you want to see something up close, it's Blanka Vlasic slinky-ing her sparsely-clad limbs over a bar.
And, see No. 3 above, not a word about the fact that a U.S. guy was really hanging tough in the 800 and, whatdya know, ran the fastest U.S. time so far this year with a very strong shot at making the World Championship team. Showing and telling track and field performances, as they're going on, would make TV coverage much better.

5. The kids are OK without a pacemaker. In fact, they're awesome without a pacemaker. I know the management wanted to make the high school boys and girls running the Dream Mile events feel all grown up and special, so they hired pacemakers just like the professional distance races. The result was tarted up like a five-year-old beauty contestant. Insane, misguided, heroic, dramatic pacing—66 seconds for the first lap, 86 for the second—is what makes high school distance running. They're not just younger versions of the pros; high schoolers are a completely unique species, untroubled by limits of physiology or logic. Pacemakers, echhhh. Way to crush my Dream Miles.
6. Get the hell out of the way, Erin Donohue's coming through. I really like her. She's not elegant; a freight train is the image that comes to mind, but she's honest and tenacious and gets the job done. The 32-year-old (2008) Olympian who specializes in the 800, 1500 and mile hasn't posted much since 2011, but came out to Randall's Island to race. Boom, she won the 1000 meter (which is sort of an odd, not-often-competed distance) in a personal best of 2:37.42 over Nike Oregon Project mofos Treniere Moser and Mary Cain. Donohue has qualified but not yet declared to run the 800 at U.S. Nationals in two weeks. That's how you make a comeback.