On Christmas Eve, while most of America was indulging in Christmas carols, bad bowl games, and General Tso's chicken, Tallahassee police released information on two investigations involving Florida State athletes. That seemed to all but ensure that nobody would actually read them, so I'm revisiting those cases today—because who doesn't want to hear about the time an FSU player admitted to picking up a crack-smoking prostitute with fake teeth and screwing her in the apartment he shared with his girlfriend?
The first case—the one without a prostitute—involves freshman running back Dalvin Cook. Police said they are investigating an aggravated assault by two men who are "alleged to have brandished a firearm at a neighbor" on July 17. Cook is an associate in the case, which is still under investigation.
Police also released 20 pages of documents in a closed investigation involving former defensive tackle Demonte McAllister. Officers were called to Lexington Woods Apartments the morning of July 21, 2011, because a woman was "knocking on doors screaming that she had been raped," the reports said. When officers arrived, they found a woman "walking towards the police cars with her breast exposed stating that she had been raped and beaten up." She pointed to the apartment where she said it happened and said the suspect, later identified as McAllister, was still there. An officer knocked on the door and rang the doorbell repeatedly, but nobody answered.
The woman went on to provide several different versions of events to police. First she said that she met McAllister inside a McDonald's. Later she said he picked her up as she was walking away from a McDonald's. What appears to be her final version, which she told police twice with some variations in the details, starts with her saying she was a working prostitute who had been smoking crack cocaine on Dent Street and was hanging out in a yard when McAllister appeared.
She said a black car, driven by the suspect pulled up and another prostitute known to her as Lettie, was in the passenger seat. Lettie asked her if she knew where Kim was and when she told her no, Lettie suggest she go with the suspect. She said the suspect told her he wanted to have a good time. She said no money was discussed but he said he would "take care of her".
G/O Media may get a commission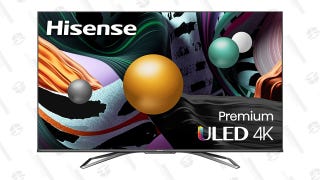 Save $350
Hisense ULED 65" Android 4K HDR Smart TV
As she told the story, the two went back to McAllister's home; as soon as she walked through the door, McAllister hit her in the back of the head, knocked her to the ground, and told her, "Bitch, you gonna suck my dick all night long."
[She] stated the suspect put the knife to her neck and put the petroleum jelly inside of her rectum and began having anal sex with her. [She] stated she and the suspect then went into the bedroom and began having sex on the bed. [She] said the suspect also continued to hit her and threatened to kill her. [She] stated the suspect then placed his penis inside of her mouth and made her perform oral sex. [She] said the suspect ejaculated inside of her mouth. [She] stated the suspect opened the door and told her to walk home.
As she told another version, McAllister did not threaten to kill her, and the order of the sex is different—in this account, they had oral sex in the bedroom, followed by anal sex on the couch and oral sex in the living room, before he told her to get out. During this retelling, the investigator noted that she was coming down from a cocaine high and medicated from the hospital visit.
In any event, police make contact with McAllister, who is brought in for questioning and also gives officers different versions of what happened. Then lawyer Tim Jansen—who knows a few things about defending FSU players—shows up and says he's McAllister's representation. The officers leave, Jansen talks with McAllister, and then police return and hear what appears to be McAllister's final version of events. In this one, he said he went out with his friend Sean and then decided to go back out after they got home about 2 a.m. "to look for a girl."
He found one and she gave him oral sex in his car. He said she recommended a girl named Kim so they went looking for her. He said they went to a house where V1 got into his car and went back to his apartment with him. He said once there, she performed oral sex on him in the bedroom, but it wasn't working. She said they went to the living room and he asked her if he could "stick it in her". She said yes and he penetrated her until he was hard again, then she performed oral sex on him until he ejaculated in her mouth. He said when he was penetrating her she made the statement she hoped she was going to get $50 because she was working like a slave. He said when they were done she wanted money but he did not have any.
Afterward, McAllister said, he offered her food. She turned it down and asked if she could stay the night because "she had nowhere to go." He told her no and "got her out the door."
A sexual assault exam was conducted, and a rape kit was impounded by police. McAllister let investigators search his apartment, but did not consent to swabs of his cheeks or penis. Later that day, McAllister's girlfriend reported a burglary at their apartment, and witnesses told police that the woman had returned with several men "looking for her things." She later asked police if they had recovered her fake teeth.
When investigators list the evidence they have so far, they don't describe a strong case. They say the woman's injuries were inconsistent with how she describes being beaten, and that the way her personal items, including her cell phone, were strewn in the yard didn't match up with how she had described McAllister's throwing them. (McAllister, for his part, denied throwing them.) Both parties said they had sex—what they disagreed on was whether it was forced or consensual. One of the investigators met with a prosecutor and gave this account in the meeting.
On 07/26/11, I met with ASA Jack Campbell. We reviewed the case and he advised unless the suspect's DNA came back from the phone, there was not enough supportive evidence to prosecute for Sexual Battery, because he denied throwing her phone out or ever touching it. We discussed charges of Prostitution, however both parties advised there was no discussion of money with the exception of her saying she hoped she got $50 for working like a slave during intercourse, therefore that charge was not applicable.

At this time the investigation is Open/Inactive pending results from FDLE.
Which results? As part of the investigation, the woman's cell phone was swabbed for DNA. It appears prosecutors wanted to see if evidence showed McAllister touched her phone, which he had denied. From another report:
On 07/26/11, I had presented this case to ASA Jack Campbell who declined to prosecute unless the suspect's DNA was found on the cellular phone. The case was closed open/inactive pending FDLE results.
So it was just a matter of waiting for the FDLE results?
Nope.
On 06/24/14, I was reviewing old open/inactive cases and discovered the DNA swabs had never been sent to FDLE for processing. I completed the request and it was sent to FDLE.
The June case file review was being done discovered in response to a September public records request made by ESPN. While going through files, police noticed that the DNA swabs had "not been immediately processed"—for nearly three years. And, just to be clear, FDLE has a crime lab in Tallahassee.
On 7/22/14, Kerri Rosanne of FDLE completed a lab report indicating there were no interpretable DNA present.

On 09/26/14, I had the evidence in this case disposed per department policy on a PD143. This case is Exceptionally Cleared.
Case closed, evidence destroyed, and all without precious FSU boosters having to read in the papers about the player who really seemed to know all about where to pick up hookers in the state capitol.
Image via Associated Press