Russia came away with a bronze medal in the men's 1,500m short track speed skating event today, and you may have noticed that the guy who brought that medal home, Viktor Ahn, doesn't look very, um, Russian. We can explain.
Viktor Ahn isn't Russian?
Nope. Viktor Ahn is one of the most successful short track speed skaters in the world, but you may not have realized that because his name used to be Ahn Hyun-Soo, and he used to skate for the South Korean Olympic team. You probably remember him dominating the 2006 Olympics, when he came away with three gold medals and a bronze. At the time, he was American speed skating star Apolo Ohno's firecest rival.
Oh yeah, that rings a bell.
That's because Ohno and Ahn were thrust into a rivalry of sorts after the 2002 Olympic games, when both skaters were involved in a huge crash just a yard from the finish line in the 1,000m race.
In the immediate aftermath of that race, Ahn shouldered most of the blame for the crash—ESPN: "It was a brazen move by the 16-year-old South Korean, considering there was hardly any room to pass. Not surprisingly, it sent bodies flying in all directions."—but a look at the tape shows that Ohno whacking Ahn's knee is what really set the crash in motion. Ohno got up from the crash and salvaged a silver medal while Ahn missed the podium. Ahn got his revenge in 2006, though, beating Ohno in both the 1,000m and 5,000m relay.
G/O Media may get a commission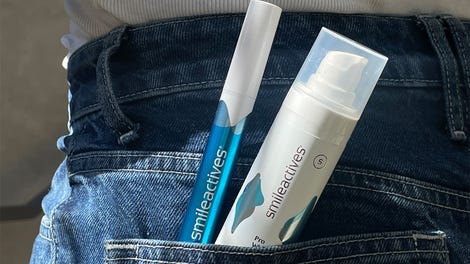 58% off
Whitening Powerhouse Pen & Gel Duo
So why is Ahn Hyun-Soo now Viktor Ahn?
Because he's a fully naturalized Russian citizen. In 2010, Ahn had a falling out with the South Korean speed skating federation after he failed to make the 2010 Olympic roster. A knee injury kept Ahn from qualifying for the 2010 games, and afterward he felt cast aside by his country.
That was mean of them!
Well, not exactly. South Korea is a speed skating powerhouse, and sometimes it's hard to find room for an aging skater who is coming off an injury. Ahn may be one of the best speed skaters in history, but even the great ones get old, and in South Korea there is always an up-and-coming skater ready to replace guys like Ahn.
How did Ahn settle on Russia?
It's hard to say for sure, but it's pretty safe to assume that some monetary compensation was involved. Russia's short-track team hasn't been very strong in recent years, so it's not surprising that they would be willing to pay a premium price for a legitimate shot at a medal. The New York Times spoke to Jang Kwon-ok, a former speed skating coach, who helped shed some light on the recruiting process:
Jang, who said he still spoke to Ahn often, would not specify how much financial assistance Ahn received from the Russian federation. But he did say that the process for receiving Russian citizenship was "very, very easy," compared with the layers of paperwork and the residency requirements that would be expected of someone trying to gain American citizenship. Jang also said that the talent pool in both countries was a factor for Ahn.
That's bullshit, man! Russia just bought their way to a medal!
Don't be so quick to hate on the Russians. A lot of countries were trying to get their hands on Ahn, including the United States. A former speed skating coach who used to be closely associated with the American short track speed skating federation recently told Deadspin that the American team tried just as hard to lure Ahn here:
When Ahn made it known a few years ago that he was leaving Korea, we tried to lure him to the USA. Unfortunately no one can compete financially with the Russian team at this Olympics so he became Victor and not Tom or Chris or Steve.
So you can't hate the Russians for doing what everyone else wishes they could have done. Money talks, man.
So why did he change his name?
Good question! Let's let Ahn explain, in his own words:
"First of all, the name Viktor is associated with the word 'victory'," Viktor Ann added. "It's symbolic, as I want this name to bring me luck. Secondly, I know of another Korean named Viktor, who is very popular in Russia and is well-known in Korea – Viktor Tsoy. I want to be as famous in Russia as he was. And third, I was told that Viktor is a name, which is easy to remember for Russian-speakers."
Neat!
Wait a minute, now that I think about it, his name does sound familiar. Where have I heard it before?
Of course it sounds familiar. That's because Ahn played an integral role in creating the greatest speed skating photo of all time when he beat Sjinkie Knegt to win the men's 5,000m relay at ISU European championships. Let's take some time to enjoy that photo again:
Well, thanks for clearing all that up. When can I watch this guy skate again?
Ahn is set to compete in the men's 1,000m and 500m events, and he will be skating for the Russian team in the 5,000m relay. We can only hope that Sjinkie Knegt ends up behind him in all of those events.
More Olympic field guides: Japanese women's hockey team | Evgeni Plushenko | Jason Brown