Look closely and you can see the exact moment that Mumbai City striker Thiago Cunha, mere moments after losing on aggregate to Atlético de Kolkata in the Indian Super League semifinals, completely forgets that he's in a soccer game and instead becomes convinced that he's the star of some martial arts movie.
Surrounded by a swarm of bad guys, Cunha realizes that he must dispatch them all with the kind of swift, balletic, strung-together blows to multiple assailants that are common to these kinds of movies. Bruce Lee would be proud of the way Cunha effortlessly moves from foe to foe, taking one down with a single punch or kick and seamlessly flowing into an attack on the next: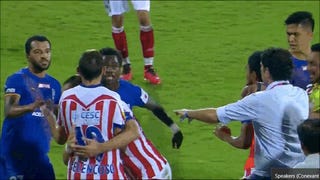 The "Okay, who's got next, I'm prepared to take on all y'all from any angle" series of movements once he wheels away from the thick of the scrum are great, too: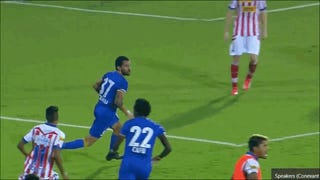 Maybe he can pick up real martial arts or action movie acting during the long suspension he'll undoubtedly be handed.