Back in the golden age of soccer TV in the U.S.—think back, if you were lucky enough to be there for them, to those naive, innocent, halcyon days of 2016—America was the best place on earth to be a couch-dwelling soccer fan. In those heady times, stateside followers of the beautiful game could gorge themselves on what felt like an infinite number of matches from all the best leagues in Europe from the comfort of their living rooms. Armed with nothing more than a fairly standard cable package and a job and/or interpersonal relationships that wouldn't be too badly damaged by your spending a borderline disgusting number of hours with your ass on cushioned leather and your eyes glued to a screen, and you too could become a bona fide, totally satiated soccer fiend.
Ohtani has the WBC, but will Mike Trout ever lead the Angels to a championship? | Agree to Disagree
Fan of the Premier League? Well just crawl out of bed, flip on the TV, and turn to any of the half-dozen or so NBC Sports channels which will be showing literally every single EPL match of the day! Prefer your soccer of the more continental variety? In that case, switch the channel over to BeIn Sports for all the best Serie A and La Liga games that week, or head over to one of the Fox Sportses to see what the Wonderteen is doing in the Bundesliga! Adjusted your class schedule to ensure you had the all-important window from 2:45-5 p.m. Eastern on Tuesdays on Wednesdays open? Great, then tune into FS1 or FS2 for the day's big Champions League fixtures! Has the TV programmer of one of these networks bumped your preferred match in favor of something else? No worries, all you have to do is log into any of these channels' websites or phone apps, type in your cable info, and you can stream any (or mostly any) match from these leagues on your laptop or phone!
Back then, almost literally every single European soccer match anyone could conceivably want to watch was only a cable package away. It was a glorious time. That time has now passed.
We've already been documenting the rapid demise of peak soccer TV at the hands of the greedy dickbrains who run TV networks, and come the 2018-19 European season that starts this month, that era will be all but dead. The process of murdering our cool and good American soccer TV setup and sending it to hell began last season, when NBC Sports took their amazing product and made it shittier by greatly cutting down the number of matches shown on TV and hiding the other matches behind a $49.99 paywall. Not long after winning the English language UEFA Champions League TV rights away from Fox, Turner wasted no time ramping up the evilness by announcing their plan to completely cripple American Champions League coverage. And this week has brought even more bad news on top of what we already knew.
G/O Media may get a commission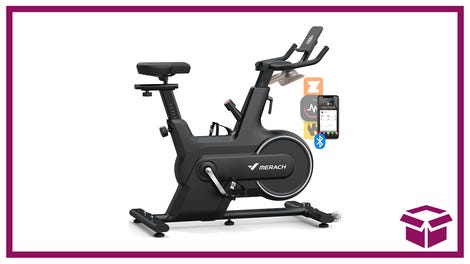 14% off + Coupon
Merach Indoor Cycling Bike
Last fall, we discovered that, starting with this upcoming season, Turner will broadcast only a tiny number of Champions League matches on their TV channels, and will erect a big paywall around the bulk of the rest. Last week we finally learned the cost to bring down that paywall: You can choose to pay $2.99 per game (nick-young-face.jpg), $9.99 per month, or a $79.99 annual fee to access their new streaming platform. Oh, and Turner's channels won't air a single Europa League match, save the tournament final. The rest of the Europa matches are also stuck behind the paywall. It's truly gobsmacking that Turner expects people to shell out such exorbitant prices for such a limited number of matches, no matter how important those matches may be.
Ah, but the bad news continues. Last week also brought news that Comcast, the biggest cable provider in the land, and Verizon would no longer carry BeIn. That's about a quarter of U.S. cable subscribers losing access to Real Madrid's and Barcelona's and all the other Spanish clubs' domestic games. There's better news for Italian soccer fans: Today ESPN won the TV rights to Serie A. But temper your excitement, Milanistas, because ESPN will only televise a single Serie A match every week, with the rest of them scuttled off behind their own, $4.99 monthly streaming service. Flat out appalling.
Obviously this is awful news for those of us who follow a wide range of European leagues and had been enjoying the good times of yore. What once came with your not-all-that-premium cable package will now run you at least $190 per year on top that cable package, and it very well might not include any La Liga games. This is bad for cable users, it's bad for cord cutters (most of the best matches won't be accessible to those who only pay for these assorted streaming services since they'll be exclusively televised), and it's bad for the growth of soccer fandom and thus soccer itself in America.
All isn't quite lost, though. While NBC Sports' Premier League package is worse now than it was, it's still pretty damn comprehensive without ponying up for their streaming platform. Turner's castration of the Champions League rights is unforgivable, but at least Univision has the Spanish language rights; not only can you still watch every game if you get Univision (full disclosure: Univision owns Deadspin and we love them), even if you don't speak Spanish your ears will thank you for no longer subjecting them to anymore Warren Barton commentary. And while we may be in the last throes of the wonderful era of easily accessible, legal means of watching all the soccer you can take, there r SoccerStreams of more dubious legality but extremely high quality out there for all to find with just a quick Google search. When soulless corporations close a door, just open a new browser window.