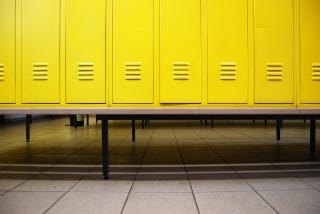 Pee! Pee everywhere! That's what girls from Princeton (Minn.)'s soccer team say they found in their lockers Saturday morning. The pissing bandits haven't been identified, but here are the facts: Princeton's football team played host to Mound Westonka (Minn.) last Friday. Mound Westonka's team used the Princeton girls' locker room for the game. And the next morning, when the girls showed up for soccer practice, they were pretty upset (pissed?) at what they found.
Per CBS Minnesota, Princeton student Taylor Sleen asked the million-dollar question:
Why would you do that to someone else's stuff? The soccer balls were all full of it and some soccer people's shoes were all yellow and stuff—it's gross.
Now, no one's accusing Mound Westonka's players of filling soccer balls with pee, but it doesn't look good for them. The room was locked by a custodian after Friday's football game, and no one opened it until the following morning. The principal at Mound Westonka says players and staff are being interviewed, and investigation is ongoing. Thus far, no answers have trickled forth.
Schools Investigate After Urine Found In Girls Locker Room [CBS Minnesota]
Photo credit: Ulrich Mueller/Shutterstock