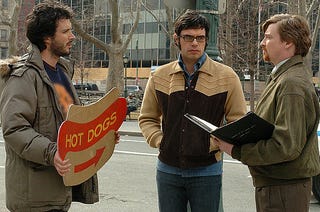 Correct me if I'm wrong, but I believe Rich Gannon said that Jay Cutler has never been to New York before today. Really? A millionaire, star NFL quarterback, and he's never been to New York? Seems odd, but I looked back at the Broncos' schedule, and they haven't visited the Giants or Jets since Cutler's been on the team. He also spent draft night in Nashville. But no class field trip? Stag party? Corn and livestock trade show? Regardless, the city seems to agree with, as KOGOD has dubbed him, the "Sarah Palin of quarterbacks". The Broncos lead the team-of-the-moment Jets 27-17 at the end of the third, and Cutler has thrown for 312 yards and a touchdown. Thomas Jones is doing his best to keep the Jets in this one, running for two TDs and over 130 yards already. In the other games:
• Pittsburgh at New England: The Steelers have sacked Matt Cassell four times, and he's fumbled twice, as Pittsburgh is controlling New England 23-10 in the fourth. Yes, Mike Tomlin, you are certainly oozing "it" now!
• Atlanta at San Diego: Another good game by Matt Ryan, who has thrown for two TDs and is in good shape to lead his team to an 8-4 record. That would still leave them in third place in the NFC South, though. What are you snickering at, NFC West? 22-16 Atlanta in the fourth.
• Kansas City at Oakland: 20-10 Kansas City in the fourth. And, in exciting news, if you haven't seen Mark Clayton's one-handed TD grab against the Bengals today, here's the video:
So pretty.
Mark Clayton's One-Handed TD Catch [Ravens Fandome]