Your morning roundup for July 6, the day controversial sports site Deadspin.com was mentioned in non-controversial newspaper Columbus (Ga.) Ledger-Enquirer. (Video via Eagle-Tribune, ESPN)
What we watched: Ray Lewis said the lockout would lead to evil, lots of evil in the world. We don't know about that, but the downtime can certainly lead to a lot more idle drunkenness. Lorenzo Neal drove his pickup truck off the road in Fresno over the weekend, striking a pole. He failed a breathalyzer test, and was released to a friend. Normally, this is not news. But Neal is the Chief Information Officer for Safe Ride Solutions, "a professional driver service and DUI prevention program," so there's some irony here. (Not the dramatic irony or verbal irony you bring up when you want to be a smartypants, but the normal Alanis Morrissette type we all mean when we use the word.)
But Neal's got a good excuse for hopping behind the wheel after throwing back too many drinks on the golf course: he didn't think he was drunk. Which is an airtight excuse, since we all know no one's ever been successfully charged with DUI as long as they thought they were sober enough to drive. It's a Safe Ride Solution.
G/O Media may get a commission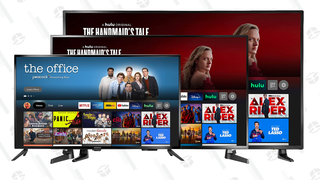 Up to 44% off
Prime Early Access - Insignia Fire TVs
What we're watching: Brett Favre is not coming back, people. All it takes is one "expert" saying he thinks Favre might want to give it another go, slap a sensational headline on it, and the blogosphere goes into full-on panic mode. (The NFL is good at this: whipping fans into a frenzy when there's nothing going on. Exhibit A: the now-annual Top 100 List.)
Favrewatch '11 began in a live chat with "personnel guru" Gil Brandt yesterday afternoon. As a throwaway aside to an answer about the Vikings and Christian Ponder, Brandt said "I do think Favre would be interested in talking to a team about returning."
First of all, Brandt doesn't claim to know anything - he "thinks." And even if he did, what kind of authority is a guy who last worked in the league in the 1980s? And even Brandt tempers his guess about Favre getting the itch with a caveat that no NFL team would ever want him if he came back. So are we clear on this? Brett Favre is gone, and he's not ever coming back, and he's nothing more than a bedtime story parents use to scare their kids (especially their nubile college-age daughters).
Elsewhere
Your handy guide to Roger Clemens' perjury trial: "Clemens has remained indignant, repeating that he never used PEDs and did not lie to Congress — and he and his lawyers have said he's eager to get his day in court. That begins Wednesday morning in U.S. District Court in Washington, D.C., when jury selection kicks off a trial that is expected to last four to six weeks. Opening statements are expected next Monday or Tuesday. The trial will pit two veteran government prosecutors known for their stoic, workmanlike manner against colorful Texas legend Rusty Hardin. It will be the word of McNamee, the government's crucial but maligned witness, backed by Andy Pettitte, Clemens' former teammate and friend, against Clemens. Watching over it all will be Judge Reggie Walton, a veteran jurist with a reputation for running a fair trial but issuing harsh sentences." [ESPN]
Go away: "Derek Jeter has tried to downplay his pursuit of 3,000 hits, but the Yankees shortstop has agreed to let HBO and Major League Baseball document the historic moment. HBO will air a one-hour special titled "Derek Jeter 3K" just weeks after he reaches his 3,000th hit. "It has been a lot of fun working with HBO Sports and MLB Productions to capture this milestone in a special and unique way," Jeter said in a statement. "Hopefully fans will enjoy getting to see a sneak peek at the journey."" [NY Post]
You also, please, go away: "New York City, you see, is home to 33 dogs actively registered under the name Jeter. Across the Hudson, at the Valley Animal Hospital in Clifton, N.J., there are seven clients who go by the name Jeter, and on a single mail route in nearby Montclair, there are at least two Jeters - both reported to be friendly. In Jersey City, a Labrador is named Jeter; in Stamford, Conn., the city's lone Jeter is a beagle. Jack Beibel, 16, of Montclair said he named his dog Jeter because the shortstop was his favorite player. His cockapoo has taken to it. 'If we yell, 'Yankees,' he starts barking,' Beibel said. 'And if we yell, 'Red Sox,' he kneels down.'" [New York Times]
Rick Reilly's latest column is just a bunch of fake PGA logos: Here.
Freestyle blimp race interlude:
We are all Dave McKenna CXLVII: Here's your daily link to Dave McKenna's brilliant "Cranky Redskins Fan's Guide to Dan Snyder," which we'll be posting every day until Snyder's dumbass libel lawsuit gets hit by a bus.
Mika Myllyla, dead at 41: Mika Myllyla, a Finnish Olympic gold medalist and winner of three world championships in cross-country skiing whose career crashed after he was caught up in a doping scandal in 2001, was found dead on Tuesday in his apartment in Kokkola, Finland. He was 41. Enlarge This Image Markku Ulander/Agence France-Presse - Getty Images Mika Myllyla celebrating after a race in the 1998 Winter Olympics. Police officials did not provide details but said no crime was involved, the Finnish national broadcasting company, YLE, reported. [NY Times]
Terrifying killer plant interlude!: "Contact with the plant's sap — just by brushing against its bristles — can cause painful, burning blisters to develop within two days if combined with sunlight and perspiration. It can also create red blotches, which are painless, but later develop into purple or brown scars that can last for years. The huge plants have hollow, ridged stems with dark red patches, and large leaves which can grow up to five-feet wide." [Daily Mail]
Larry Bird to host boring press conference to announce unsurprising pick as Pacers head coach today: The Indiana Pacers did announce they had a news conference with Vogel scheduled for Wednesday. He will be joined by Larry Bird, the Pacers' president of basketball operations.
Bird called Vogel the favorite to get the job from the beginning of the search after the Pacers finished strong last season and made the playoffs. [AP]
Snoop is everywhere: "On the "Rappers Most Likely to be Photographed With a Random Women's National Team" rankings, Snoop is a clear number one, so this photo of him with the Australian Women's National Team (nicknamed the Matildas) at their hotel in Germany is completely unsurprising." [KCKRS]
Even when not sobbing into a towel on the sideline, Federer is a gracious loser: "Roger Federer says it's good for tennis that Novak Djokovic won Wimbledon and became the top-ranked player. The only player who has beaten him this year said Tuesday that Djokovic has earned his success after compiling a 48-1 record in 2011. 'He deserves to become No. 1 after an immense start to the year,' said Federer, who defeated the 24-year-old Serb in the French Open semifinals. 'When you lose so rarely, your confidence carries you a long way.'" [AP]