But it might not be Mike Tomlin. I linked to an article yesterday that reported that Tomlin had the job, then Tomlin denied that that was true... and then ESPN's Chris Mortensen said that it was true, and so did everyone else... and last night, the Pittsburgh Tribune-Review said the job belongs to Russ Grimm.
So if it turns out that the Tomlin reports were wrong yesterday, I apologize... to the Deadspin readers, to all the Steeler interviewees, and most importantly, to Omar Epps. It's a shame that Omar had to be dragged into it, and it's a shame that Russ Grimm can't look more like Omar Epps.
The Tomlin story was independently reported yesterday by MSNBC, SI.com, and ESPN.com... and they've all been wrong before individually, but it's a little strange for them to be all be wrong about one thing at the same time. Of course, it would also be strange if the Pittsburgh Tribune Review were to so boldly contradict all the other published reports if they weren't sure about it themselves.
I don't know. I just hope that this drags on so long that someone eventually offers the job to Kordell Stewart.
G/O Media may get a commission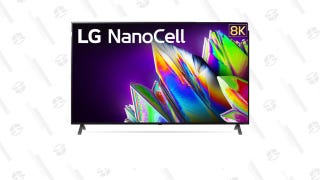 LG 75-Inch 8K TV
Steelers set to name Vikes' Tomlin as coach [ESPN.com]
Steelers choose Vikes' Tomlin to succeed Cowher [SI.com]
Steelers pick Grimm, source says [Pittsburgh Tribune-Review]