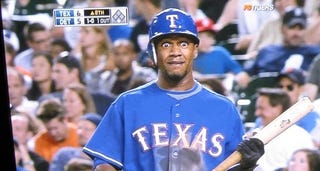 Because no one reads the newspaper, and SportsCenter's anchors are too perky for this early in the morning, Deadspin combs the best of the broadsheets and internets to bring you everything you need to know to start your day.
•Chris Johnson is no longer the lowest-paid player on the Titans, which seems kind of fair. Tennessee rejiggered his contract, paying him $2.5 million dollars to, in essence, not hold out until next summer.
•South Carolina, UNC and now Florida are all the subjects of ongoing NCAA investigations into whether players received improper benefits. In worst case scenario, UF would have to vacate their Sugar Bowl, USC their two bowl appearances in the past two seasons, and UNC that time they barely beat McNeese State in 2008.
•Serena Williams may not be able to make the US Open, after cutting her foot on broken glass last week. A likely story. She's probably just afraid of that line judge from last year's Open.
•Is Ubaldo's Wild Ride coming to an end? The Marlins beat the Rockies with a 2-out, 9th inning pinch-hit home run from Donnie Murphy. But more worrying is just how human Jiménez has looked recently: his ERA rose to a season-high 2.38. The ghosts of Rockies pitchers past don't see what the problem is.
•Detroit lost in 14 innings to the Rangers, and also lost Brandon Inge for at least a month with a broken hand. If I were a newspaper editor, I'd headline this game story "Adding Insult To Inge-ury." Now you see why I'm not a newspaper editor.
(thanks to Brad for the screenshot)
•••••
Good morning, Internetland. Thanks for joining us today.