Any pro athlete in the major sports will tell you how fortunate they are to earn truckloads of money to participate in what are at heart kids' games. It's right there in the one shared verb that unites them: they get paid to "play." However, it's rare to find a pro athlete who actually takes to the court or field or pitch with the exuberance of a kid on the playground. One who marries the focus, determination, passion and ruthlessness required to reach the highest levels of sports with the unmistakable air of someone who is just flat out having fun. Tottenham forward Son Heung-min is one such athlete, and watching him right now, at the height of his powers, you can't help but root for a guy who clearly takes so much joy from the act of playing.
Son certainly isn't Tottenham's best player. That designation belongs to Harry Kane, the best striker in the Premier League. Son isn't even one of the club's most important pieces, probably ranking behind each of Dele Alli, Christian Eriksen, Mousa Dembélé, Toby Alderweireld, and Jan Vertonghen on the Spurs' hierarchy. If there was one position in Tottenham's formidable ideal starting lineup you'd look to upgrade on in an effort to kick the team up a level from contenders for the Champions League places to full-on title challengers, it would most likely involve swapping Son with a truly elite wide forward. However, none of that prevents Son from being an exceptionally gifted attacker who on any given day can himself be the difference between a win and a loss, and because of the skills and infectious cheeriness he brings to the pitch, he just might be the single most endearing figure at the club.
In last weekend's Tottenham-Bournemouth game, Son was his team's best player. He scored twice, continuing the hot streak he's currently on which has seen him net seven goals and set up one assist in his last four matches. His performance encapsulated many of the aspects of his game that make him so effective, and featured more than a couple of those irrepressibly wide grins that make him so damn likable.
The hallmark of Son's game is his versatility. He is a goalscorer first and foremost, but is one who is fully capable of offering a threat from any location on the pitch. A right-footed player who primarily plays on the left wing, he's also perfectly adept when roaming out on the opposite flank, when playing through the middle behind a center forward, and even when sitting up top as the team's main striker when need arises—as will likely be the case in Tottenham's upcoming matches, in light of the ankle injury Kane suffered during the Bournemouth match.
What makes Son so dangerous no matter where he starts from is his intelligent, tireless movement and his adroitness with both feet. The South Korean is always hunting for open space, willing to slink deep to collect a pass into his feet and make something happen that way, and, crucially, also prepared to sprint between and behind back lines to warp the structure of an opposing defense. Most players prefer to do one or the other—to come to the ball or to run away from it—and it's Son's seamless transition between both that aids his unpredictability and versatility.
When he does get the ball under his control, his quick feet and speed and ability to cut any which way and shoot with either foot prevents his markers from guessing what he'll do. This presents him limitless ways to kill his opponents. He's not blessed with searing speed, nor is he the trickiest dribbler, but he does have enough acceleration and top-end speed to, when coupled with his technical craftiness, makes him extremely hard to stop when he finds space. These abilities make Son Tottenham's best attacking dribbler, and a crucial component of the attacking strategy that generates space and chances for all of Tottenham's goalscorers.
G/O Media may get a commission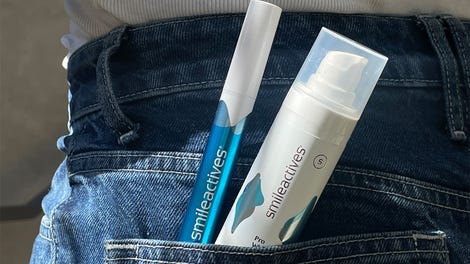 58% off
Whitening Powerhouse Pen & Gel Duo
The most striking thing about watching Son out on the pitch is how smooth his movements are. He almost looks like a sprite from one of the older FIFA games with the shoddy physics simulation, less of a runner than a skater effortlessly gliding to and fro, slipping past defenders and cracking the ball at goalkeepers with complete accuracy no matter which foot does the launching. The same pinpoint aim that makes him a great finisher also allows him to slide cutting passes out to his teammates, which he uses to rack up his pretty solid assist stats to compliment his goal numbers. Sonny is Tottenham's second-highest scorer this season, hitting 12 goals in 29 Premier League appearances for a rate of 0.6 goals per 90 minutes (which is really good for a wide forward), and adding another four goals in seven Champions League appearances. His goals and assists and the performances around them might not be the most critical ones driving Tottenham's phenomenal season, but without them—without Son—Spurs would not be where they are right now.
It seems clear that Son delights in his auxiliary but still key impact on his club's fortunes. Before his outburst of goals over the past couple weeks, Son had been struggling for a while after what was such a promising first half of the season. In the 10 matches prior to Tottenham's F.A. Cup demolition of Rochdale on February 28th—the game that sparked his run of form—Son had scored just once. That must've been a tough time for a player who thrives on confidence and, when at his best, plays with such evident joy. And even once the goals started flowing again in recent weeks, Tottenham's heartbreaking loss to Juventus last Wednesday in the Champions League—a match Son scored in but probably should've added another goal to in order to stave off the eventual Juve comeback that knocked Spurs out in agonizing fashion—was yet another gut-punch to the happy-go-lucky forward. But as Son described in his postgame remarks following the Bournemouth victory, nothing can keep him down for too long:
It took only one match and two more goals to return Sonny's trademark smile to his face, which is exactly where it belongs. Playing the way he has all season, you can bet that there are even more wins, goals, assists, and big broad smiles in store for him, and for everyone who watches him.