In the 36th minute of the Euro 2012 semifinal, Mario Balotelli scored his second goal, a screamer to the top right corner. Balotelli ripped off his jersey and flexed, and the telecast cut to a woman in the stands, a German flag painted on her cheek, a single tear leaking from her eye.
"It's too early for tears," intoned ESPN's Adrian Healey, calling the action. And it was. The German newspaper Süddeutsche Zeitung talked to the tearful woman: Her name was Andrea, she came from Dusseldorf, and she was surprised when she started getting texts from friends asking why she'd started crying with nearly an hour of play remaining. She hadn't, Andrea told them.
Instead, she said, she had been overcome with emotion during the playing of the national anthems, before the match kicked off. A camera recorded her then, and the footage was inserted into live TV later on, at the moment it would have the most impact. The emotional power of sport, on cue.
Don't blame Healey or ESPN. They didn't know, nor did ARD, the German network airing the match, nor did ZDF or SVT, or any of the other hundreds of channels that had won the regional broadcasting rights around the world. They merely aired the streaming live signal from UEFA—which on multiple occasions goosed the live footage by adding prerecorded shots, with zero acknowledgement.
On June 13, during of Germany's group stage match against the Netherlands, cameras found German manager Joachim Löw sneaking up behind a ballboy and poking the ball from his grip. A humanizing moment in the middle of a tense game. Except it happened during warm-ups, well before the match, and was dropped in to make it appear live.


Two networks, claiming they were caught off guard by UEFA's practices, have spoken out against it.
"Of course any form of censorship or manipulation is not acceptable for us." said ARD's Euro 2012 chief editor Joerg Schoenenborn." That's why we clearly told UEFA that the German public expects coverage to be live when it says it's live. Live is live and has to stay live.''
"We have complained to UEFA that the impression was aroused that these were live pictures,'' ZDF editor-in-chief Peter Frey said. "That does not correspond to our journalistic standards.''
G/O Media may get a commission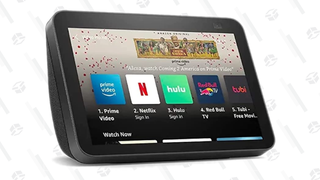 I would be shocked if they were as shocked as they sound. TV's been fudging the distinction between documentary and stagecraft for a long time. Your favorite news and sports shows always make sure to tape footage of their reporter nodding thoughtfully, and insert it under an interview subject's voice. This makes it look like correspondent are listening closely, when they might be doodling or picking their noses. It's subtle, and it's unnoticeable, and the Hollywood editing of seemingly unbroken scenes is surprisingly common. If you can't trust Killer Shark Live to actually be live, what can you trust?
Surely not the Olympics. We're less than three weeks away from the most expensive and slickest Games ever broadcast, and in the wake of the BBC's CGI blockbuster promos, count on NBC making every effort to give you the most cinematic experience possible. While you're still figuring out whether a given event is live or tape-delayed, they'll be blurring the line even further.
UEFA under fire for 'manipulated' Euro 2012 images [AP]
When Old Footage is Mixed into Live Sports: Welcome to the Era of Reality Live TV [Motherboard]