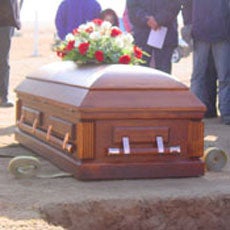 Being a San Francisco Giants fan, I often think of death; but so far I haven't made any firm arrangements. That could all change tomorrow when I head off to the Grand Prairie Airhogs game, where they are giving away a free funeral to one fortunate fan in their All Hogs Go To Heaven Funeral Giveaway. But there's much, much more.
All Fans are encouraged to WEAR BLACK tonight for the "All Hogs Go To Heaven Funeral Giveaway." Fans will compete in pre-game FUNERAL MARCH, between-inning casket races and much more!! One LUCKY AirHogs Fan will win an all-expenses-paid trip to the afterlife! Sign-up TODAY for your chance to win this once-in-lifetime deal! "This is a fun and exciting opportunity to get our name out into the community," said Ron Alexander with Oak Grove Memorial Gardens. Pre-game concert by: Vicky Williams.
The Airhogs are the second team in as many weeks to announce a funeral giveaway; the Lake County Captains, a Class A South Atlantic League team, are staging a similar promotion, with the lucky winner of a free buryin' to be chosen in August. My only question: Do they have Thirsty Thursday in the afterlife?
Airhogs To Give Away Free Funeral [Grand Prairie Airhogs]
The Altoona Curve Salutes All Quitters (You Know Who You Are) [Deadspin]