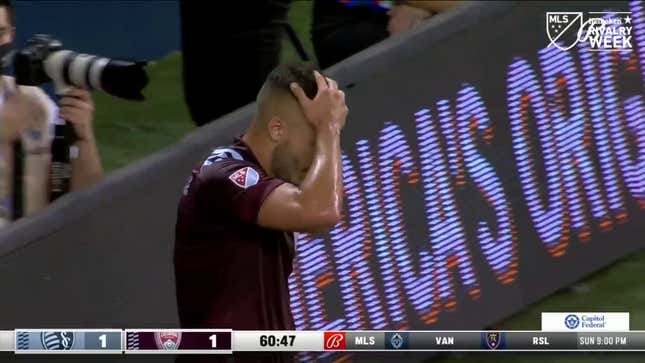 As I've said in the past, I'm still something of an MLS novice. This is the first season I've truly tried to work against my "europhile" ways and really get in up to the elbow in America's domestic league.

What's worse than Glen Kuiper using the N-word on air? | Worst of the Week
And for the most part, it's been great! While the middle of the season still has little stakes to it once the top teams establish their standings position, a lot of the games have been eminently watchable. Maybe it's that MLS is perhaps the last league where a lot of teams are happy to feature a true #10, or heavy pressing against the less skilled teams, meaning there are more chaotic styles and games, or that there's still a lot of room in midfield for play to speed through making for end-to-end games. Whatever the reason, there's more than enough reason to check it out if you've been reluctant.
So it is unfair that the rare time I bring MLS to these pages is in the same fashion of "#LOLMLS" things you've seen in the past. I promise to do better. And it's even more unfair as Sporting KC and the Colorado Rapids played a cracking 1-1 draw last night. Both teams didn't just speed through midfield so much as completely ignore it other than using it as a launching pad to hurl attackers and chances at each other like they were both trying to siege Gondor at the same time. As they're two of the best teams in the Western Conference, it was a pretty good ad for what the MLS product is right now.
Does that mean it should have ended 1-1? Fuck no. And that's because the teams traded comedic gold when it came to finding ways to not score on chances when it was much harder to not score.
We'll start in the 60th minute, when Mark-Anthony Kaye only needed to deflect the ball at an angle less than 165 degrees from where it came to score from five feet out:
Maybe the post moved.
But as it was all game, KC would have to reply in kind to keep things level. Johnny Russell, who'd already buried a wonderful free kick in the first half, was our "chef de huh?" on this one. There's a natural rhythm to watching any soccer game, and that is capped off by watching goals. It only takes a little while before you're seasoned. You see the cross on a chance like this, and your eyes and mind do the instant calculation—keeper won't get there, teammate is going to get to this cross, he's a foot and a half out—and you conclude how it will go. Cross to foot to net. Your anticipation becomes reality. And then when that doesn't happen, it's the same feeling as when your computer freezes or the internet goes out. The whole system fizzles and it takes at least five seconds to figure out what's gone on and that you haven't had some sort of brain bubble yourself.
I'm sure Russell's brain told him, "All you have to do is get a foot on this, and the one thing you can't do is then stop it with that same foot and you've scored." But probably in the same family as "don't think about pink elephants."
After those two, there was only one way this match could end. We all dream of an injury-time winner, and Cole Bassett probably couldn't believe his luck in getting this sitter to net one of his own.
It has to be even more dispiriting after you've sprinted a good 70 yards to pull this off. Important lesson here kids: never try.