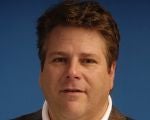 We're all well aware of the crappy economy's effect on many Americans. Journalists are particularly vulnerable: newspapers are shutting down, salaries are freezing, jobs are scarce. Might as well grow some weed.
That might have been the plan of Grand Rapids Press sports columnist David Mayo, who was charged with growing marijuana at his home . There were a little more than 20 plants found in his home, but Mayo's lawyer, Bruce Block, assures curiosity seekers that his client was not planning to sell the plants and that they were for "personal use."
Mayo was mostly known as a boxing writer, following the trials and tribulations of Floyd Mayweather, and for his pithily titled blog "Mayo's Clinic." I've attempted to go through some of his entries to see if there were any posts that were clearly written by him while he was stoned out of his mind, but I've sadly come up empty.
Press Sports Columnist Charged With Growing Marijuana [MLive]