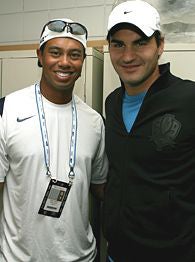 Dylan Stableford is the editor of media blog FishbowlNY and will write occasionally on the U.S. Open.
Roger Federer won his third consecutive U.S. Open men's final yesterday, defeating Andy Roddick — who ran out of both mojo and Dick Enberg comparisons to his coach, Jimmy Connors — in four sets, 6-2, 4-6, 7-5, 6-1, a match that was not even that close. For Federer, it was his ninth Grand Slam title, putting him a touch below guys named Sampras (14), Emerson (12), Borg (11), Laver (11) and Tilden (10) and in the exhaustive Tiger Woods conversation of greatest all-time in their respective sports.
(Editor's Note: While watching the NFL yesterday, we occasionally noticed Woods on the TV, cheering Federer on while wearing a backwards hat. God, he's such a dork.)
I spent most of the afternoon struggling to find a reason to hate Federer. And while his Feder-bear charity is perhaps reason enough, the search proved futile. The guy's a fucking machine. A very friendly, handsome, respectful machine that apparently manufactures titles as frequently as it does teddy bears for UNICEF. God, I fucking hate him.
Roddick's now 1-11 all-time vs. Federer — the kind of domination one normally pays $300 an hour for. You know, let's not go there, either.
Stableford: Sharapova Fingered In Bananagate [Deadspin]
Stableford: Long Night In Flushing [Deadspin]
Stableford: A Night Of Agassi [Deadspin]