Oh, look. It's another Pittsburgh Steelers player being an outstanding citizen. (Hold your fire, Steelers fans. I'm one of you. Even wore this during my commute to work today. I'm also well aware of the franchise's fine tradition of not once making the playoffs only once* during the first 40 seasons of its existence, to say nothing of its storied history of employing guys like this).
The best sports movies according to Toheeb Jimoh
Update (3:30 p.m.): Rainey has been cut by the Steelers. This is an organization that simply will NOT tolerate scrubs who mistreat women. Just starting quarterbacks and linebackers.
Now. Where were we? Ah, right: According to police in Gainesville (Fla.), Steelers running back/return man Chris Rainey, a fifth-round draft pick last April, was charged this morning with simple battery for allegedly slapping his girlfriend of nine months. Rainey had played his college ball in Gainesville, at least when he wasn't getting suspended, which he was for a short time in 2010, when he was charged with felony stalking for, among other pleasantries, texting "Time to Die Bitch" to a woman. (Rainey eventually was sentenced to community service and had to take anger management classes after getting that charge knocked down to a misdemeanor.)
G/O Media may get a commission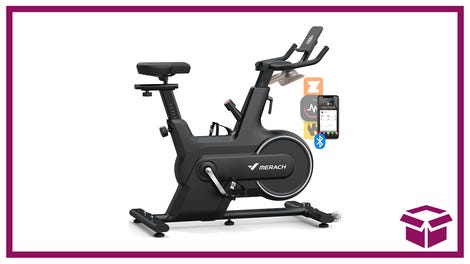 14% off + Coupon
Merach Indoor Cycling Bike
So what allegedly happened this morning? Gainesville police were kind enough to put out a statement to let everyone know. They even put it on Facebook:
Thursday, January 10, 2013
FOR IMMEDIATE RELEASE
Related CR# 13-669

GAINESVILLE, FLA – At approximately 8:26am on January 10th, 2013, the Gainesville Police Department received a 911 call from a witness that reported a male subject and a female subject involved in a verbal altercation that turned physical.

Officers arrived and identified Christopher J. Rainey, BM 3/2/88 as the male involved. Witnesses told officers that Rainey and the victim got into an argument over Rainey's cellphone. The female victim entered the vehicle of Rainey's roommate, and Rainey confronted her on the passenger side of the vehicle, and began pulling her out of the vehicle. Witnesses then observed Rainey slap the victim across the face with an open hand. Both Rainey and the female victim then fell to the ground. The victim was able to run away, but Rainey chased after her because his cellphone was in a bag the victim was carrying. Rainey grabbed the bag again, and they both fell to the ground again. Neither party suffered visible injuries from the encounter. Multiple witnesses confirmed the incident.

The investigation revealed that Rainey and the female victim have been in a dating relationship for approximately nine months. Rainey was ultimately arrested by the Gainesville Police Department and charged with one count of Simple Battery (Dating Violence.) Rainey was transported to the Alachua County Jail for booking.
Also, here's Rainey's mug shot:
* This story was updated on Friday, Jan. 11, 2013, to reflect the fact that Steelers did lose a 1947 "playoff" game to the Philadelphia Eagles. I had considered that defeat a tiebreaker instead of a playoff game—which it was—but the NFL does officially consider it a playoff game.