Next Saturday, the Oklahoma City Thunder will play the Golden State Warriors for the first time this season. You may think this game is just a blip on the sports calendar, a solid NBA matchup meant to offer some small amusement to those of us looking for ways to pass the time until the Super Bowl. That assessment may have been true a few days ago, but now Steph Curry is making promises, and Russell Westbrook is getting angry.
Curry is a Panthers fan, and yesterday he was asked how he felt about playing the day before his favorite team plays in the Super Bowl:
Essentially guaranteeing a win against one of the best teams in the conference may seem like a bold move, but the Warriors never lose and Curry is fresh off obliterating the Cavs after saying he hoped their arena still smelled like champagne. Anyway, how does Russell Westbrook feel about all of this?
G/O Media may get a commission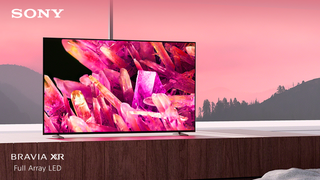 $400 off
Sony 55 Inch 4K Ultra HD TV X90K Series
Hell yeah. What about you, Kevin Durant?
This is great. A game between two great teams is always better when the players bring some genuine angst to the court. Durant and Westbrook may be keeping it relatively cool on the surface, but I hope they are just seething on the inside. And why wouldn't they be? They are 35-13 and yet Steph Curry, who hasn't even played them yet this year, is justifiably guaranteeing a win. That must be really annoying! I bet Russell Westbrook's never wanted to dunk on anyone so badly.
The good news is that we still have a week for this beef to develop. I'm calling on all beat reporters to spend the next seven days only asking questions that will make the Warriors and Thunder angry at each other. Here are some suggestions:
"Steph, you've clearly modeled your jumper off Kevin Durant's, but can you talk a little bit about what you still have to learn from him?"
"Russell, have you ever hit a pull-up jumper from 30 feet out? Did you know Steph Curry does it all the time?"
"Draymond, can you talk about what it's like to play against Serge Ibaka, who is strong and tough and can push you around the court like a little weak baby?"
Stoke this fire, NBA media. I want to watch Curry, Westbrook, and Durant go for 60 points each that night.