And Larry Brown will hate them both.
I'll say this for Isiah: He has corrected the Knicks long-standing philosophy of stockpiling undersized power forwards. His new vision of stockpoling selfish point guards should be much more effective in crippling the Knicks for years and years to come.
Stephon Marbury and Steve Francis. There aren't many GMs in the league who would have one of them on their team. And Isiah's gotten both of them. That is mind-blowing. NBA.com is reporting that the Knicks are sending Penny Hardaway and Trevor Ariza to the Magic in exchange. In Penny's first stint with the Magic, he had Shaq. This time, he has Darko. I doubt he'll notice a difference.
So the Magic get a bunch of cap room and a young player with some upside in exchange for someone they just wanted to get the hell away from their team. I see no negatives here for the Magic. When you have a stud like Darko and an average complimentary player like Dwight Howard, you need decent young players and cap room to build around them.
And the Knicks get another player who wants to dominate the ball and has a history of not being such a great teammate. But the good news is that he has three full years left on his absurdly expensive contract. Isiah wasn't even able to get rid of Anucha Brown-Sanders in the deal.
A little tip for those of you who enjoy Death Pools: A Larry Brown suicide does not look at all unlikely at this point.
G/O Media may get a commission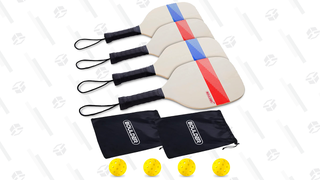 It's Pickleball
Pickleball Sets