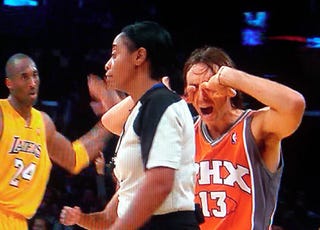 Got an image you'd like to see in here first thing in the morning? Send it to tips@deadspin.com. Subject: Morning crap.
I don't know sign language, but I think Steve Nash might have had a problem with Violet Palmer's officiating in last night's game against the Lakers. (The Suns got crushed, btw.) Or maybe he's just invested in a LensCrafters franchise and wants to make sure everyone in the NBA has quality, stylish eyewear. He can take care of that for you in about a hour.
They say the eyes are the window to the soul—which must explain why most NBA refs have souls that are crusted with bird poo. Hey ... THAT'S THREE SECONDS!
* * * * *
Good morning, peoples. 10-6? Can that be right? Cutler almost had more INTs than the Bears had points and they still could have won? Good thing I still don't get the NFL Network.
I thought this Friday might never come ... but what if it never leaves?