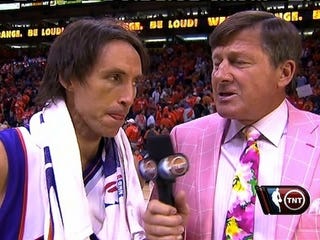 Because no one reads the newspaper, and SportsCenter's anchors are too perky for this early in the morning, Deadspin combs the best of the broadsheets and the blogosphere to bring you everything you need to know to start your day.
•How was your weekend? Better than Mike Brown's, we're guessing. Cleveland fired Brown after five seasons with nothing to show for it. They're not expected to fill the coaching vacancy immediately, since LeBron may decide to be a player-coach.
•Hey, we've got a series! Amar'e Stoudemire goes off for 42, and Phoenix beats LA 118-109. And Steve Nash wants to lick Craig Sager because he thinks he's Easter candy. (Thanks to 30fps for the screengrab.)
•Chicago has fully committed to the Indian, as the Blackhawks advance to their first finals since 1992 (and hope to win at least one game, for the first time since 1973). The phrase "Original Six" now officially applies to Duncan Keith's teeth.
•Three men were arrested for breaking into Heinz Field by use of a "human ladder." Better than a human centipede, I guess.
•The Independent Leagues pitcher who was traded straight up for Jose Lima last year threw a no-hitter, on the same day Lima was found dead. It's Lima Time in heaven now, kids.
•••••
Monday. Let's do it.