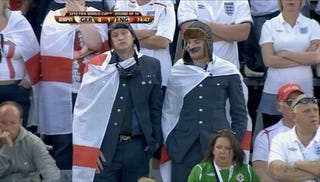 Because no one reads the newspaper, and SportsCenter's anchors are too perky for this early in the morning, Deadspin combs the best of the broadsheets and internets to bring you everything you need to know to start your day.
• That image up there comes courtesy 30fps. It depicts two sad men wearing what appears to be RAF get-up (one of them, inexplicably, in a Red Baron mustache), responding forlornly to the German onslaught. This all seems terribly familiar. I'm pretty sure Ed Murrow was up in the press box, handling play-by-play.
• Here's video of three amusingly synchronized World Cup referees as they limber up for a long night of stuffing their heads up their asses.
• Researchers have determined that Bengals receiver Chris Henry had chronic traumatic encephalopathy — degenerative brain damage brought on by repeated hits to the head — at the time of his death. They've now found CTE in the brains of more than 50 dead former athletes. The only thing that makes this mildly less depressing is that the NFL no longer trots out sham doctors in toy stethoscopes to deny the obvious.
• TMZ says that Jennifer Capriati was hospitalized after an overdose.
* * * *
Good morning. Sorry for all the technical difficulties this weekend. We should be up and running now.