One hundred years ago, our most badass, National Park-making president, Teddy Roosevelt, staggered out of the steaming Brazilian jungle, barely alive, after descending the uncharted, rapids-choked River of Doubt. There was no longer doubt as to the river's dangers, so it was renamed Rio Roosevelt.
To honor Roosevelt's conserving spirit and to see what changes the last century has wrought, a team of two American wilderness guides, Dave Freeman and Paul Schurke, and four Brazilian scientists are retracing Roosevelt's journey, in a six-week, 400-mile expedition that began in late May. Freeman and his wife, Amy, whose home turf, the Superior National Forest in Minnesota, was first protected by the Camper-in-Chief, are similarly devoted to preserving wild places. The two were named 2014 National Geographic Explorers of the Year. The team has received advice and encouragement from Roosevelt's great grandson, Ted Roosevelt IV.
They've discovered there's still room for doubt on the Rio Roosevelt. The night before they were to dip their paddles into the fast-flowing water, the expedition did not yet have permission from the local Cinta Larga chief to enter tribal land, where Roosevelt's trip started. When they heard protests over land demarcation laws had erupted in violence (read: Indians shot a policeman with an arrow), they worried they would get permission.
Instead, the team bypassed the Cinta Larga reservation, discovering along the way the limits of their vehicles in knee-deep mud, and put in on the Rio Branco that feeds into Rio Roosevelt farther downstream. They plan to paddle until they reach the Trans-Amazonian Highway, sometime in late June.
G/O Media may get a commission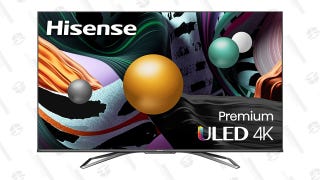 Save $350
Hisense ULED 65" Android 4K HDR Smart TV
Unlike Roosevelt, who struggled over the many portages through thick jungle with dugout canoes weighing a ton or more, this expedition is using lightweight Kevlar and folding canoes. Solar panels laid on top of the canoes soak up the intense equatorial sun to power their iPads and other electronic equipment.
But like the original bunch, they're supplementing their food supplies with foraged heart of palm, fruit, fish — tambaqui and piranha — and chicken bought from riverside farmers. Machetes are gainfully employed.
Still largely undeveloped, the Rio Roosevelt team has encountered thundering rapids, body-rotting fungi and outrageous diversity of flora and fauna, most of it only tangentially interested in dining off of humans.
Freeman relates that while many indigenous people can now order from Amazon.com (oh the irony), anthropologists estimate there are still about sixty tribes who are not only off-grid, they're virtually uncontacted. Apparently, the Do Not Call list can be effective when backed up with poison arrows.
Photo credit: AP Images