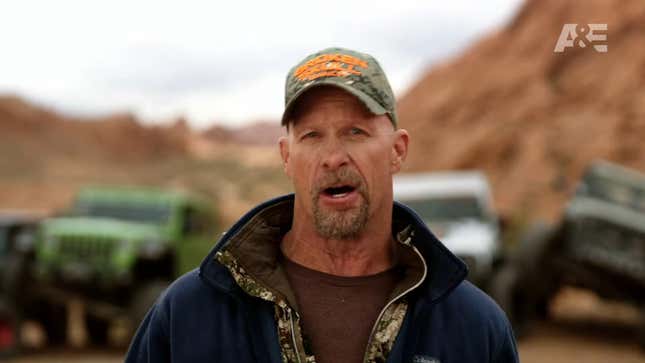 He's synonymous with World Wrestling Entertainment if not all of professional wrestling as one of the most popular performers in the theatrical sports' history. Stone Cold Steve Austin can still garner a crowd reaction like few ever have with the simple sound of glass shattering to start his entrance theme. And the now-58-year-old Texas Rattlesnake is going on a new adventure outside the squared circle for Stone Cold Takes on America, which premieres April 30 on A&E at 10 p.m. Eastern, with new episodes airing weekly in the same television block.

Stone Cold suffers identity crisis while filming new show
Stone Cold suffers identity crisis while filming new show
The premise of the show is to see Stone Cold doing the activities he missed out on while traveling the world as professional wrestling's top guy. What activities? As he puts it in the promo for the show, he'll take on any challenge that's tough enough to take on him. And while Stone Cold is primarily known for his time in the WWE, very little wrestling is involved in the show. Stone Cold told Deadspin that there are plenty of flashbacks to his career throughout the series and a segment filmed with former WWE wrestler Mason Ryan. However, the show doesn't focus on the action between the ropes and turnbuckles at all. Because of that, Stone Cold journeyed in part to find who he is outside of his beer-drinking, middle-finger flipping, stompin'-a-mudhole-and-walkin'-it-dry persona.

"I'm Steve Austin. And that's how I live my life. All my buddies that I know here in the region of Nevada that I live in, man, I'm considered a local. So I don't live my life as Stone Cold," the six-time WWE Champion recently told Deadspin. "And that was almost an issue that I had in the first few episodes because it's Stone Cold Takes on America. I kind of had an identity crisis because I could go to Stone Cold now if I wanted to. But I didn't and I never did during the show. There's a couple of times where I said 'Give me a hell yeah!' But for a while there, I actually struggled with who do the people want to see? Do they want to see me as a human being?"
Austin continued: "And I asked one of the guys who was up at the network 'Is being Steve Austin enough?' Because it says Stone Cold. And I wrestled with that, no pun intended, during part of the filming of that show. And I think finally, maybe about the halfway mark, I kind of found out who and what I was. … Sometimes I don't know where Stone Cold starts and Steve Austin comes in. I found out that in filming the show, Stone Cold is pretty specific to the world of wrestling or competitive endeavors. And going through life myself, I exist as a guy named Steve Austin. Personality is still there but I'm a way different cat."
Is Vince McMahon returning to WWE?
Stone Cold Steve Austin on the road
Filming of Austin's new show started in November and didn't wrap until the last week of March with a sabbatical of around a month in the middle. Per Austin, the WWE was approached to take part in the show but it didn't come to fruition because of the company's focus on its biggest yearly event, WrestleMania. Some of the tasks Austin "takes on" are more common than being a professional wrestler during the series. He'll go bowling with some competitive seniors, try to become an attentive waiter and do a live weather forecast — green screen and all. And in Austin's prime days in the WWE, he didn't see much of the towns he traveled to outside of the arena, hotel and airport.
"It wasn't about really going to different towns and stuff like that, but just really doing the things that I wanted to do or just doing things that anybody in America would do," Austin told Deadspin. "Being on the road is being on a road and having a steering wheel on your hand, some of those drives, all you're doing is driving.
"... I've been out of the wrestling business for 19 years now. And my wife and I like to travel a lot in our RV and go camping and stuff like that. But we've kind of not been as active in that regard as we have been in the past. So to go out on the road and film the show, there was a little bit of a stop down, with some internal things that were going on. And then we picked back up. And we stopped down, I missed my crew. And I was like 'Man, I'm not doing anything because where's my crew?' And we finally started back and finished up and it was a little bittersweet because we've kind of grown to be a big family. And I think we did some really good stuff, and I hope the really good stuff outweighs the bad stuff."