Every week, I'll excerpt a handful of stories — old and new, sports and otherwise, relevant and merely sublime — that I urge you to read for one reason or another. Send any suggestions to craggs@deadspin.com.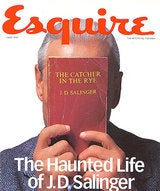 "J.D. Salinger: The Man in the Glass House," by Ron Rosenbaum (from Esquire, 1997)
Suggested readers: Phonies
Just as I'd hoped, one of the Nieman Fellows approached me after my talk with a fascinating story about S. He had a friend, he said, who, as a youth, had made the Pilgrimage to Salinger's House, a journey that is the closest thing a secular literary culture has to a religious ritual, a rite of passage. It is a pilgrimage S. — much to his regret, one must suppose — seemed to encourage with a famous passage in Catcher in the Rye in which Holden Caulfield describes the powerful connection he feels with writers whose work he loves and how that kind of connection makes him want to call the writer up. He doesn't say look the writer up, but few pilgrims make that distinction because few have his phone number anyway. (I have a number for him. I just haven't used it.)
The Pilgrimage to S.'s House, to the shadow of his Wall, has itself become part of American literary myth, most prominently in W.P. Kinsella's Shoeless Joe, in which an Iowa farmer sets off for New Hampshire with a plan to kidnap J.D. Salinger and take him to a baseball game because a Voice has given him the mission to "ease his pain." The Fake Wounds Story turned out to be a kind of inadvertently parodic inversion of the ease-his-pain injunction. That night in my hotel room in Cambridge, I was able to track down the guy that the Nieman Fellow had told me about, the one who'd made the fake-wounds pilgrimage.
The way he told it, back in the sixties, when they were teenagers, he and a couple of similarly Salinger-obsessed buddies had hatched what they thought was a fiendishly clever plan to lure Salinger out from behind his Wall. The plan was to drive to Cornish and locate the Salinger house, at which point he planned to tear up his clothes and cover his head and body with ketchup to simulate blood — to make it look as if he'd been badly beaten up. They'd screech up the driveway to the walls of S.'s house, toss the "victim" out of the car, roar off, and leave him there moaning. The idea was that S. would then have to emerge — he couldn't resist the cry for help of a man who might be bleeding to death on his doorstep. That S. would have to come out from behind his Wall, take the fellow in, and ease his pain.
In a slapdash way, it was a plan to try the patience of a saint, because embedded in it was an ethical/spiritual dilemma: The ketchup-smeared kid would not be just another feckless adolescent fan or a doorstepping journalist but a suffering human being in need of help. Could S. refuse?
And so they did it — smeared the ketchup, dumped the body out right in front of the wall. The kid began moaning in pain from his fake wounds and waiting to see whether S. would appear to help heal them.
[...]
Let us return again to the Fake Wounds Story, in which a possibly wounded S. inside his wall is confronted by a fraudulently wounded seeker moaning outside the wall. What happened, the somewhat chagrined fake-wounds victim told me, was that soon after he was dumped off, ketchup-smeared, moaning, the lights came on in the house behind the wall "as if someone was watching." And then, after a while, the lights went off. Then nothing. Silence. No one came out. Eventually, his friends returned, and they all slunk off. They didn't come away from it thinking S. was cruel or heartless. Rather, they got the feeling that the fake-wounds thing had been tried before: that it had become a regular routine for seekers to bear wounds, both real and false, to the wall. That S. had somehow developed the ability to diagnose the difference between blood and ketchup, between real pain and its simulation. This jibes somewhat with the story Jonathan Schwartz, the writer and radio personality, told me about a woman he knew who'd made the pilgrimage with her five-year-old child. She'd gone as far as knocking on S.'s door, and he wouldn't let her in, she told him she had a tired, ailing child in her car. At that point, S. become enormously solicitous, invited them both in, and fed and played with the child for hours while they all watched the Marx Brothers' Monkey Business and an episode of I Love Lucy.
From Mao II: A Novel, by Don DeLillo (1991)
Suggested readers: Recluses
"There's something about writers. I don't know why but I feel I ought to know the person as well as the work and so ordinarily I try to schedule a walk beforehand, just to chat with the person, talk about books, family, anything at all. But I understand you'd rather not go on and on with this, so we'll work quickly."
"We can talk."
"Are you interested in cameras? This is an eighty-five-millimeter lens."
"I used to take pictures. I don't know why I stopped. One day it just ended forever."
"I guess it's true to say that something else is ending forever."
"You mean the writer comes out of hiding."
"Am I right that it's thirty years since your picture has appeared anywhere?"
"Scott would know."
"And together you decided the time has come."
"Well it's a weariness really, to know that people make so much of this. When a writer doesn't show his face, he becomes a local symptom of God's famous reluctance to appear."
"But this is intriguing to so many people."
"It's also taken as an awful sort of arrogance."
"But we're all drawn to the idea of remoteness. A hard-to-reach place is necessarily beautiful, I think. Beautiful and a little sacred maybe. And a person who becomes inaccessible has a grace and a wholeness the rest of us envy."
"The image world is corrupt, here is a man who hides his face."
"Yes," she said.
"People may be intrigued by this figure but they also resent him and mock him and want to dirty him up and watch his face distort in shock and fear when the concealed photographer leaps out of the trees. In a mosque, no images. In our world we sleep and eat the image and pray to it and wear it too. the writer who won't show his face is encroaching on holy turf. He's playing God's own trick."
"Maybe he's just shy, Bill."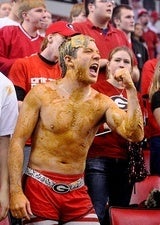 "Pissing and Moaning," by Roy Blount (from Crackers, 1977)
Suggested reader: Peanut Butter Kid
A person who is from Georgia, if he ever gets anywhere very far out of Georgia, is forever saying or thinking, "Well yeah, I'm from Georgia, but ..." or "Sure, I'm from Georgia, what's so cute about that?" or "I'm from Georgia and I feel just as good as a pig in shit about it," or "I'm from Georgia, and if you were from Georgia you'd realize what kind of fool you are, but you aren't and don't, so I guess I'll just have to operate on two different levels at once," or "I'm from Georgia, and I guess I better leave my mind open to the possibility that I am missing something here or at least that people will assume I am — and now I've got to decide whether it'll be more worthwhile to go out of my way to determine that I'm not missing anything, or to go out of my way (casually) to indicate that I'm not missing anything, or to just let those who assume I am missing something go ahead and assume it and thereby miss something themselves, which will tickle me to death," or "That's right, I'm from Georgia, but (and) I have a sense of irony about it. But not for your benefit."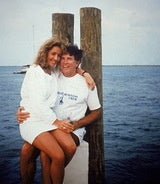 "The Steaming Bouillabaisse," by Richard Ben Cramer (chapter 26 of What It Takes: The Way to the White House, 1992)
Suggested readers: John Edwards and the press corps preening on top of his political grave
The climax had to wait for the last breathy column, where [Gary] Hart was asked about his marriage ... now that Lee was back in Denver, and Gary was alone. Quinn wrote:
"He will only say of his marriage, 'I have almost no personal life at all. I lead a completely political existence. If one party doesn't share the same interests you've got a problem. Let's just say I believe in reform marriage.'"
From the Monday morning when he saw the paper, Hart could not believe what she'd done to him ... what he'd done to himself. He meant to be candid, charming, at ease. (At one point he was quoted: the best thing was "not just winning, but winning, and making it look easy.") But you don't learn ease on the job with Sally Quinn, no.
He was horrified at the hurt he'd done to Lee ... and himself! It was so irresponsible ... clumsy ... bush league. He never would have said those things, if she hadn't been, you know, attractive ... but even so ... damn! Lee had gone and left him here ... he barely saw his own kids. That part about no personal life — he meant it, but even so ... why did he say it?
Well, he learned a lesson — the hard way. It didn't matter what he saw around him, the marriages on paper, the people in the campaign, on the press plane, in the field offices, all running away from hearth and homes, living for the day (and the night!) ... you still couldn't say it! Well, he never would again. He'd never discuss his personal life — not with reporters — hell, no!
But then, too, never would that quote go away. It would come back with him, to Washington, when he took his seat in the Senate. It would surface in files in 1984. It was alive and swimming in the stinking bouillabaisse in '88 — oh, very much alive!
And a strange, rotten bit of fish it seemed to this new pack, though they, too, had been young in '72. They were in schools, or coming out to first jobs. They, too, had long hair, and tight pants over slender legs ... and if sex were money, they all would have been rich.
But here's what the wooers of this generation missed ... Biden, Caddell, and all the trackers of this bulge in the bell curve: the salient fact about this boom generation had nothing to do with its love-and-drug-addled idealism, when it — when they — were the hope and heritors of the world.
By 1987, they still felt the world was theirs; the nation, the society (and everyone in it) ought, by all rights, to march to their tune. But the tune was changed, the times transformed. They'd done their own thing, they'd been the Me Generation, they'd sung "We Are the World" (and they meant it) ... but the salient fact, at this point in their lives was ... they were turning forty.
They were worried about their gums.
They were experts on soy formula.
They were working seriously on their (late, or second) marriages.
They were livid about saturated fats in airline food. What, no fiber?
They did not drink, they did not smoke, drugs were a sniggering memory. They worked all the time, except when they were calling home.
And they certainly, God knows, did not mess around!
Sex! ... It was tacky. It was dangerous. It was (sniff!) ... not serious.
And being ... (They Are the World) ... this generation, no one else was going to get away with sex, either.
Or drugs.
Or ill health.
Or fouling their air with noxious smoke.
Or music so loud they couldn't hear their cellular phones!
Or driving without a seat belt, and a baby seat ... like they had ... so they could navigate the mortal dangers of the world, to get home, where there was some decent (i.e., French) springwater.
They had become the Thank-You-For-Not (smoking, eating, drinking, fornicating ... or anything else I don't do) Generation. In their self-referential certainties, they were:
The ⃠ Generation.
Their mortality, their middle age, their growing and overweening fear must now become their world's fear.
And here was Hart — so dedicated (still!) to undermining the safe security of convention — even their conventions. Jesus, this guy just reeked of danger!
Here was Hart — (still!) unconvinced of their God-given bulge-driven right to decided what was right for him ... or sane for the rest of the world. Well, if that wasn't arrogance!
Here was Hart (reform marriage, indeed!) — who everybody knew was (still!) getting laid ...
Well, the sonofabitch was prima facie crazy!