Every week, SportsFeat picks a few great reads for Deadspin. Thanks to Yao Ming's retirement and Deron Williams's Turkish tour, here are some classics on the foreign wanderings of professional basketball players. Enjoy.
For a daily selection of top-shelf sports writing, both new stuff and classics, check out SportsFeat.com or follow @sportsfeat on Twitter.
Welcome to the Far Eastern Conference
G/O Media may get a commission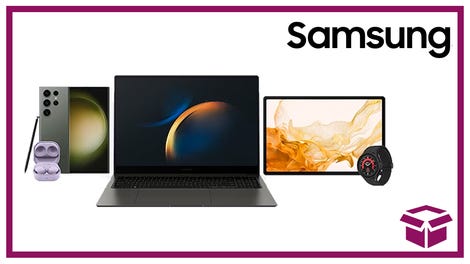 24 hour deals
Discover Samsung - Daily Deal

Wells Tower • GQ • May 2001
A trip to visit Stephon Marbury in China ends with a thud as the former New York Knick becomes a former Shanxi Brave Dragon:
"It's bullshit," he said. "But you know, the good thing about this situation, at least I know it wasn't anything I did. You know what I've learned in my trials and my errors in the last three years? You can't let anguish derail you. People are gonna say, 'Oh, Stephon went to China. He messed up, and look what happened.' But I know the truth. This is a time of growth right here. This will work out for the best. I'm just gonna go to Beijing and find another team."

But this seemed an impossible ambition. The season started in less than two weeks, and presumably all the contracts for foreign players had been settled months ago. Marbury's position was, I felt, sad. Surprisingly so. Or, rather, it was really surprising to find oneself suddenly sickened with sympathy for an international sports celebrity with more money to his name than many American small towns.

Then again, it's never pleasant to see anyone's dream collapse, and Marbury's dream of China was about the vastest, most ornately bespired cathedral of ambition I'd ever met anyone trying to build. It contained, so far, $10 million of his own personal cash, one year of his life, the adoration of some number of thousands of Chinese people, putative fame and wealth in India and unspecified countries throughout Africa, his own personal city in South Carolina, skyscrapers, and Marbury's left arm, indelibly inscribed ♥ CHINA.

When such an extraordinary volume of wishes comes abruptly to earth, you can't help but feel the ground quiver the tiniest little bit.

Peter Hessler • New Yorker • December 2003
On Yao's childhood, the challenges of coming to Houston, and the trickiness of going back:
"In China, the goal has always been to glorify the country," Yao said. "I'm not opposed to that. But I personally don't believe that that should be the entire purpose of athletics. I also have personal reasons for playing. We shouldn't entirely get rid of the nationalism, but I do think that the meaning of sport needs to change. I want people in China to know that part of why I play basketball is simply personal. In the eyes of Americans, if I fail then I fail. It's just me. But for the Chinese if I fail then that means that thousands of other people fail along with me. They feel as if I'm representing them."

I asked about the pressure. "It's like a sword," he said. "You can hold it with the blade out or with the blade pointing toward yourself."
The Legend Of Black Superman: Billy Ray Bates, Flying High In The Philippines

Rafe Bartholomew • Deadspin • June 2010
After drinking himself out of the NBA, Bates enjoyed a few prolific years—in all senses of the word—in the Philippines before booze ended his career for good:
Bates was 32, and in the six years since he first played in the Philippines, he must have put 15 years' worth of mileage on his body. His coach made him promise not to drink and party too much, but the import couldn't resist the temptations of Manila nightlife. At Añejo, Bates still averaged a respectable 31 points, but the team lost its first four games, and Bates looked like a shell of his former self. When fans saw him struggling to defend rookie guards and getting his shots blocked by local forwards, they saw the Black Superman cut down to size. Bates was spared the biggest embarrassment of his career the night of his final PBA game. He scored a career-low 17 points and looked helpless against younger, healthier competition, but few people witnessed the game because a violent storm caused a blackout in Manila. It was as if fate had intervened to prevent television audiences from seeing Bates at his humiliating nadir.

And so, because he had already broken his sobriety pact and was no longer Superman, the best import in PBA history was sent packing after four games. On one of his last nights in Manila, in a final delusional moment, Bates called the manager of another team and asked to replace their import. It was 2 a.m. and he was calling from a place called Faces disco. The team manager, who had been asleep, simply hung up. Columnist Ronnie Nathanielsz penned a eulogy to Bates's career in Champ that week. "Basketball has become an integral part of our everyday lives," he wrote, "and Bates was its most brilliant character."

Leigh Montville • Sports Illustrated • December 1990
On the NBA existence of Manute Bol five years into his pro career:
The shyness is gone. He speaks English very well. He has been to virtually every American city, to some many times. He has seen snow. He has a tailored overcoat to guard against it. There is a home in Alameda, Calif., that he may try to sell. There is a home in Glendale, Md., that is being built with eight-foot doors on the inside, but with a normal-sized door on the front to keep tourists away. He is married. He has two children, a boy and a girl. He also owns two homes in Khartoum in Sudan, where relatives live. He also owns an apartment in Alexandria, Egypt, where he sometimes lives in the summer. He will average $1.5 million per year, guaranteed through 1992-93. He fits. He more than fits.

"We've adopted him," Mahorn says. "You know that ad, Adopt-A-Kid? Manute is our kid."

"He's just like us," Barkley says. "He wants to win and have fun. That's one thing that surprised me, how bad he wants to win. He really does. And he wants to have fun. That's what it's all about. He's just a skinny us."

Robert Huber • Philadelphia Magazine • December 2010
On Iverson's life in Istanbul, where he dines at T.G.I. Friday's and plays in a 3,200-seat arena:
His first game in Turkey, played in the Besiktas home arena that is smaller than Iverson's high-school gym, features the loudest crowd I've ever sat among, with stomping and clapping and hooting. It's an indoor soccer match.

Iverson's scaled-down posse is easy to spot in the stands: two large black guys, one with a big diamond earring, one with a deeply lined face and a baseball cap pulled low, with a gorgeous, eye-blinking bi-
racial woman in tow, and a mixed-race buddy with a red ponytail, diamond-shaped earrings and heavy silver chains. I point out these particulars because it is impossible not to stare at them, which seems like a dangerous thing to do even in Turkey. Their standout presence is so at odds with both Iverson's careful, controlled first game and the crowd's careful, nervous solicitation of him. He is clearly rusty; when he drops a little stop-and-go move into the basket, scoring his first points, the crowd goes berserk and then shh-shh-shh's itself to give Iverson complete quietude while he contemplates the ensuing free throw. When he makes it, everyone goes berserk again.

Basketball, though, is still a niche sport in Turkey, and the skill level of Iverson's team, I'm judging, is on the level of a middling Division I college program here; Besiktas plays in the Turkish league, not in the superior Euroleague. I ask people on the street, in hotels, in cabs, what Iverson's coming means to Turkey; a lot have no idea who he is. One cabbie says, "Iverson! Yes!" and then turns up the radio he turned down when he picked me up — a game blared. "This is the sport here," he says. "Football!" Soccer, in other words. Allen Iverson, basketball star, is in a foreign place.
Have a favorite piece that we missed? Leave the link in the comments or tweet it @sportsfeat.
Top image by Anthony Tao