You've probably never heard of Dion Earl, the former college and pro soccer player who is the owner, coach, and star player of the Seattle Impact, a professional soccer team that began its first season in the Major Arena Soccer League last night. He is, though, according to a lawsuit filed against him by members of the Impact's dance team and just about every Google result associated with his name, one of the sleaziest motherfuckers you'll ever hear of.
Earl's history of sleaze dates back to 1998, when he was fired from a high school coaching job after trying to start an inappropriate relationship with a 17-year-old cheerleader. He's been involved in a number of court cases alleging sexual harassment and domestic violence, and he's also apparently not very well liked by escorts in the Seattle area.
Now, he's being sued by a group of women whom he recruited to be members of the dance team. The lawsuit (which can be read in full at the bottom of the page) paints Earl as a creep whose primary motivation for owning the Impact was recruiting dancers so that he could attempt to forcibly have sex with them.
More specifically, the suit alleges that Earl repeatedly made inappropriate sexual comments toward these women, sexually assaulted two of them, and then fired them when they told others within the organization and MASL about his conduct. One of the plaintiffs, Jessilyn Roberts, claims that Earl attempted to sexually assault her in a private room at a strip club. The suit claims that Earl brought her to the strip club in September while the two were supposed to be promoting the Impact at local clubs and bars. From the suit:
Earl, the owner and CEO of her new employer, led Ms. Roberts to the private "VIP" section of the club. He handed the exotic dancer $500 in cash and told Ms. Roberts, "You're going to get spoiled tonight. I'm going to spoil the hell out of you."

Ms. Roberts felt awkward and terrified. She tried to sit as far away from Earl as possible, but Earl reached over and put his hand on the back of Ms. Robert's neck telling her again to "relax." Ms. Roberts tried to pull away, but the entire time she was forced to be in the VIP section, Earl kept his hand firmly on the back of her neck.

With a firm grip on Ms. Robert's neck, Earl sexually assaulted her by rubbing her inner thigh and putting his mouth on her breast against Ms. Roberts' will and requests that he stop touching her.

To escape the assault, Ms. Roberts forced her way out of Earl's grip and told him she needed to use the restroom and that she didn't feel well. She hurried to a restroom where she hid until she felt safe enough to look for Gurson. It was well past midnight and her car was over 30 miles away, so Ms. Roberts had no choice but to wait with Gurson for Earl to return to drive them home.
G/O Media may get a commission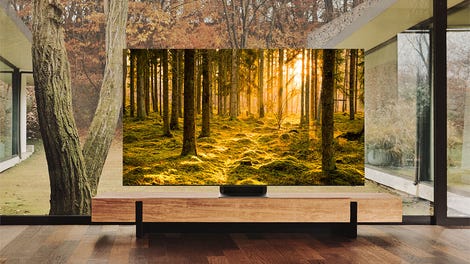 Up to 40% off
Samsung Smart TVs
Elizabeth Buslon, another plaintiff who was personally recruited by Earl, claims that she was also sexually assaulted by Earl in September. According to the suit, Earl asked Buslon to travel to Chicago with him on a promotional trip, but she refused unless another member of the dance team was present because she did not feel comfortable being alone with him. She claims that she agreed to meet him at his home to plan the trip to Chicago only after Earl told her other Impact employees would be present at the meeting, but that nobody else was there when she arrived at Earl's home. From the suit:
Earl then continued his sexual assault on Ms. Buslon. He pulled up her shirt, unhooked her bra, and rubbed her back. Earl ground his erect genitals into her backside and groaned.

Earl then attempted to pull down Ms. Buslon's leggings. She was terrified and tried to escape the assault by grabbing her leggings while struggling to prevent Earl from pulling down her pants.

Ms. Buslon fought to get out from under Earl and reassembled her clothing as she tried to flee for the door. Earl cut off Ms. Buslon's path and physically prevented her from leaving using his considerably larger frame and strength to block her only reasonable means of escape.

Earl began to forcibly grope Ms. Buslon grabbing and fondling her breasts and buttocks and attempted to kiss her again. Ms. Buslon realized that she was crying because she could see her mascara makeup smeared on Earl's shirt.

As Earl groped Ms. Buslon from behind, he whispered in her ear, "Everything that happens between us, stays between us, right?!" Ms. Buslon was terrified, she pulled away, and sprinted out the door.

Ms. Buslon immediately drove to a nearby grocery store parking lot where she vomited in her car from the severe physical and emotional distress she had just endured.
A few days later, a King County Superior Court Judge issued a temporary sexual assault protection order against Earl, prohibiting him from contacting Buslon or coming within 100 feet of her.
This is made all the worse by the fact that Earl seems to have an extensive history of preying on women. A simple Google search for his name turns up 1998 letter addressed to Earl from the Bellevue School District dismissing him from his position as a high school soccer coach after he attempted to put the moves on a 17-year-old cheerleader:
You pursued a personal relationship with a female student in contrast to developing a working relationship which is intended to enhance the student's academic and/or athletic abilities. While you did not actually go out with date the student in question, that is, it appears, only because the student did not accept your invitation. You did, in fact, exchange personal home telephone numbers with a 17-year old student who was not even a part ofyour team, but was a member ofthe school cheerleading squad. You asked her if she would like to come over to your place to see the movie Scream. The following day you contacted the student at her home to ask her if she would like to go water-skiing.
The lawsuit fielded by the Impact dance team references 50 court cases that Earl has been involved in, a handful of them the result of alleged sexual harassment and domestic violence. In one case, an email that Earl sent to his ex-wife in 2010 was entered as evidence:
[Y]ou can tell your WHORE of an Attorney and yourself to go get a FUCKING LIFE. You are the most EVIL fucking WHORE on the planet. I guarantee you I will be posting this on every blog out there for MEN to stay away from you. You are flat out an EVIL WHORE!!!!!!!!!

You give me no CHOICE but to make sure your LIFE is a LIVING FUCKING HELL.

You['re] all a FUCKING PIECE OF SHIT that think that by keeping my SON away from his father will make me CHANGE!!! Well wrong FUCKING MOVE all you FUCKS!!!! and WHORES!!!! And Pieces of SHIT!!!!!!! Including you MOM that have been FUCKING WHOEVER you WANT behind Dads Back!!!!! FUCK all of you that think I am unstable and on Drugs!!!!!! FUCK YOU ALL!!!!!!!
Earl's name also appears twice on the National Blacklist, a database that escorts use for documenting abusive clients. One entry reads:
WARNING! DION EARL, HARRASSES ESCORTS OFF THE INTERNET. VERBALLY ABUSIVE, THREATENS TO CALL THE COPS ON YOU ETC. HE GETS OFF ON PUTTING ESCORTS DOWN. HE ALSO WORKS WITH KIDS.
And another:
Dion Lee Earl is a predator. If you have a sister, cousin, friend or family member. Please be warned he has violated many women. Kent Wa court documents are public. Please get all the information before associating yourself with him.
Finally, he appears to have a profile on meetme.com, which is a website used mostly by teens who want to meet other teens.
Have a good Dion Earl story? You can get at us at tips@deadspin.com.
h/t Brandon