So that anonymous optimist who's been dropping sunshine all over the Warriorsworld forums? Goes by "Flunkster Dude"? Posts things like, "Nice job Mully!"? Why, he's none other than Warriors PR director, Raymond Ridder.
The second tipoff should've been the handle (the first, of course, is that no self-respecting Warriors fan would ever think to air his optimism publicly). Flunkster Dude? Really? Only a flack, and maybe your parents, would imagine the Internet as some strange realm of anonymous Spicolis.
Here's the comment that pinged everyone's sockpuppet radar (it's in reference to a season-ticket-holder conference call, conducted by GM Larry Riley, team president Robert Rowell and teevee nitwit Bob Fitzgerald). Oh and [Sic'd]:
I think we are all so mezmerized by what we read in the paper and take it as gospel. I actually enjoyed the call and appreciate their honesty, even if everything was not what we wanted to hear. I would like to hear from them more often. I have already renewed and are part of the 70%, so I will hope for the best from section 121......
The Mercury News' Tim Kawakami notes:
As PR director, Ridder was heavily involved in setting up the call, in large part to stem the tide of recent negative publicity about the Warriors' front-office decisions and the shedding of former executive VP Chris Mullin.
G/O Media may get a commission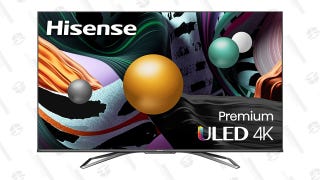 Save $350
Hisense ULED 65" Android 4K HDR Smart TV
Ridder copped to the post, telling Kawakami he "just wanted to get the conversation going in a positive direction." According to the site, Flunkster Dude has 24 other comments to his name. Kawakami writes:
Ridder also confirmed that he has posted four other comments to WW.net anonymously defending management or otherwise trying to get the conversation going in "a positive direction."

None of the comments criticized Mullin (in fact, a comment about the Jamal Crawford trade ended with "Nice job Mully!"), despite the growing division between Rowell/Cohan and Mullin. None of the comments criticized a player.

Other than one negative comment about Matt Steinmetz and a general mention of "what we read in the newspaper," none of the Ridder comments single out a media member for rebuke.
I dealt with Ridder back in my San Francisco alt-weekly days. A nice enough guy, but he was, and apparently remains, a perfect fit for one of the bitchier, more insecure franchises around. My paper had been all but blacklisted because of one harmless, yuk-yuk cover. He also struck me as the sort of professionally optimistic flack who really does believe his own line of flackery.
It should be noted, though, that Ridder is something of a hero to publicity men everywhere. After all, he married a Warrior Girl.

Warriors PR director confirms he authored anonymous blog comment [Mercury News]
The Art of Deception [Warriorsworld]