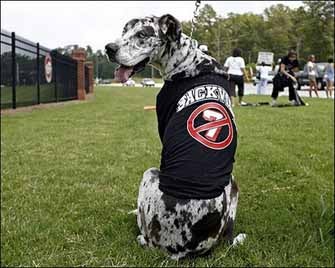 It's the glorious return of Minor Enterprise, a celebration of God's gift of Minor League baseball promotions. Also, we will plagiarize some Rachael Ray recipes.
The team that gave you the Redneck Olympics (featuring the grueling mullet competition) finally has an event that you can attend with your dog. Since Michael Vick is incarcerated very near their home field, the Kansas City T-Bones (Independent Northern League) have decided to throw a Michael Vick Welcome to the Neighborhood Night on May 28. The best part: The T-Bones will be wearing black and white striped jerseys, and the visiting Gary SouthShore RailCats will wear bright orange jumpsuit replica jerseys. (Note to Cincinnati Bengals: Do not steal this idea).
Because I have unlimited wireless minutes before 9 a.m., I called T-Bones media guy Tommy Thrall for details.
"We were sitting around brainstorming promotional ideas, and figured we should do something with Michael Vick, since he's so close by at Leavenworth," Thrall said. "Someone Mapquested it, and found that Leavenworth is only 16 miles from the park. So it seemed like a natural."
The T-Bones are still throwing around ideas, but likely to be included in Michael Vick Night are:
• Players and/or coaches being introduced while wearing shackles.
• Relief pitchers to be shuttled from the bullpen via paddy wagon.
• On-field dog parade.
• Prison siren to celebrate runs scored by home team.
• Free tickets for fans who bring a picture of themselves with their dog.
"Also, I'm sure that the park will be appropriately decorated for the prison themed night," Thrall said. "Most of all it's an opportunity to raise awareness about animal abuse and pet adoption." Several shelters and adoption agencies will be on hand, and fans can even start the paperwork if they'd like to adopt a dog. The prison replica jerseys will be auctioned off after the game with the proceeds benefiting the participating pet organizations. Jersey designs below.
Elsewhere on the promotional horizon:
Salute to Tools Night. Friday, Altoona Curve (Class-AA Eastern League). Enjoy the game with your miter saw. Plus, Steve Urkel appearance (because he's a tool; get it?). But that's not all. On Thursday the Curve will feature Animal House Night, as they mark the film's 30th anniversary with on-field re-creations of classic scenes. And Monday is Salute to Forgotten Presidents Night. It's the night before the Pennsylvania primaries, after all.
Salute To Ramen Noodles. Friday, Salem Avalanche (Class-A Carolina League). A 60-year anniversary tribute to the instant meal which was invented by Momofuku Ando in 1948. Noodle packets will be given to the first 1,000 fans in attendance, plus Ramen-themed activities throughout the game. [Thanks to Benjamin Hill]
Gino Castignoli Night. July 26, Lancaster Jethawks (Class-A, California League). The Red Sox affiliate will honor construction worker Gino Castignoli, who buried a David Ortiz jersey beneath the new Yankee Stadium during construction, which the Yankees then dug back out at much expense. The team will give away tattered Red Sox jersey t-shirts to the first 1,000 fans, and pieces of concrete will be autographed by current JetHawks players and distributed to lucky fans throughout the game. Free chunks of concrete to Red Sox fans? I see no way that could end badly. [Thanks to Ian Bethune]
Lowell Spinners Honor The Red-Tailed Hawk. Aug. 4, Lowell Spinners (Class-A New York-Penn League). The Spinners are excited to announce that the Red-Tailed Hawk has been named the official mascot of the team's Yankees Elimination Promotion. The hawk gained national fame when it attacked a middle schooler named Alexa Rodriguez during a tour of Fenway Park recently. The Spinners will have an actual Red-Tailed Hawk at the park that day for fans to examine, courtesy of the Raptor Project.
Bobblehead of the Moment. Squeeze Bobblehead, tonight, Vero Beach Devil Rays (Class-A Florida State League). The Devil Rays (note that the word Devil is still intact) pay tribute to their obese mascot with this squeezable toy that your dog will certainly enjoy eating. But hurry ... only 200 are available! [Thanks to Benjamin Hill]
Send any tips on Minor League promotions to RickChand@GMail.com. Thanks!