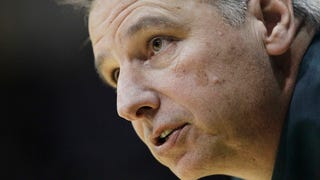 File this one next to Duke fans (maybe) chanting "How's your grandma?" at a player whose grandmother had recently died. Next month, Colorado State basketball coach Larry Eustachy will have been sober for 10 years. It's also been 10 years since Eustachy was infamously photographed drinking with students at Iowa State…
On Dec. 31, when news emerged that Wyoming senior guard Luke Martinez—the second-leading scorer on a team that was still undefeated at the time—had broken his hand, the injury was reported as having happened during an "off-campus incident." Yesterday, the Cowboys announced that coach Larry Shyatt was suspending…
Wyoming's been perhaps the most under-the-radar undefeated team this season—high-flying Larry Nance, Jr. notwithstanding—and came into tonight's home matchup against Boise State with confidence they'd advance their record to 14-0. Of course, this has been one of Boise's best seasons in ages, entering the game with…
Dave Christensen was suspended for a week and fined after this meltdown following Wyoming's loss to Air Force, in which he accused his counterpart of having the Falcons quarterback fake an injury to stop the clock. Our favorite quote, very to-the-point, was Christensen's accusatory "You have no fuckin' ethics, Troy."
Dave Christensen's punishment was handed down yesterday for this, and it's rather steep: a one-game suspension and a $50,000 fine. The decision was made by the school's athletic director with the full support of the university president, according to a statement the AD issued that said some things about "values" and…
Last Saturday, Wyoming lost a conference game to Air Force by a score of 28-27. It was a tough loss for the Cowboys, as they squandered a 10-point halftime lead. After the game, Wyoming's head coach, Dave Christensen, was very angry, and he unleashed an expletive-filled rant on his counterpart, Troy Calhoun.…
Michael Jordan's the name most people associate with the NBA Slam Dunk Contest, but few remember it was Larry Nance who won the 1984 inaugural edition of the competition. Nance's son (who had plenty of opportunities as a youth to watch Jordan style over his dad's Cavaliers) now plays for Wyoming and pulled off a…
Wyoming's Adam Waddell had a nice breakaway dunk last night (in the CBI tournament), but then he ... well, what's the opposite of sticking the landing? [Video via ESPN]
This is a screen grab from Saturday's Utah-Wyoming game. And while a grown man flippin' the bird is usually funny enough on its own, the thing that truly makes this one special is the back-story.