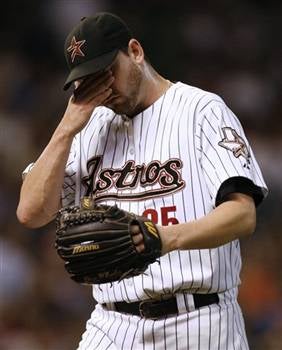 Notes on a day in baseball:
• In The Immortal Words Of Elaine Benes: 'Get Out!' It kind of sucks to be Dan Wheeler right now. The Astros reliever came in and gave up three runs to blow a save on Wednesday, as the Athletics went on to beat Houston 7-3. When Wheeler got back to the dugout after being pulled, starter Chris Sampson — who had pitched well for seven innings — attempted to console him with a pat on the back. But Wheeler shoved Sampson away, screaming at him to go to the other end of the dugout. Wait, wha —? Jason Kendall homered (not a misprint) to lead Oakland. "There's nothing going on," Wheeler said. "I love Chris. It was just frustration on my part. I'm a professional, I should be better than that. I take full responsibility." Such drama for a 27-38 team. And we would so like to see a replay of that moment with Carlos Zambrano playing the Chris Sampson role.
• The Empire Strikes Back. Meanwhile the Yankees won and the Red Sox lost, with New York moving to within 8 1/2 of first-place Boston in the AL East. Hey, we're just sayin'. Alex Rodriguez hit his 25th homer in a 7-2 win over the Diamondbacks, and Mike Mussina got his first win in more than a month. New York has won eight straight and 11 of 13.
• Rocked By Rockies. Brad Hawpe is considering starting his own blog after hitting a three-run homer off of Curt Schilling in the fifth, as Colorado went on to a 12-2 win over the Red Sox.
• Just Let 'Em Fight. Florida manager Fredi Gonzalez and Marlins players Taylor Tankersley and Aaron Boone were all ejected after Tankersley hit the Indians' Grady Sizemore in the back with a two-strike pitch in the sixth. It was one of those deals where both teams had been warned not to hit anyone. We're not sure we like this rule; it seems that baseball is going to great lengths to prevent fights that don't ever amount to any sort of violence anyway. "Stupid, just stupid," as Berman would say. David Dellucci broke a tie with a three-run homer in sixth, leading Cleveland to a 7-3 win.
• Last, But Not Least. Felipe Lopez's bases-loaded triple off Chris Ray in the 11th carried the Nationals over the Orioles 9-6.