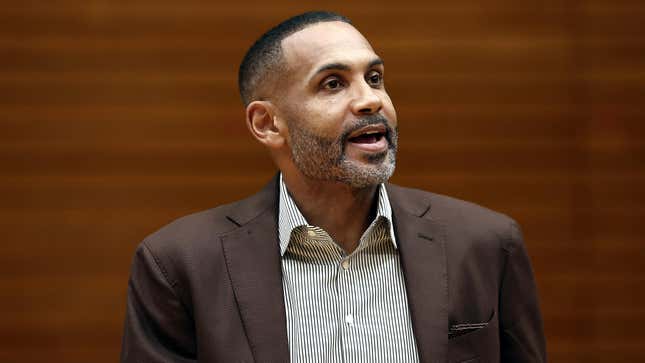 If it ain't broke, don't fix it. And if it does break, fix it the same way you did after you originally broke it. Grant Hill, this is for you.
Grant Hill looks to repeat Team USA's 2004 "success"
A few months after the first-year men's national team managing director (Hill) said, "There's no commitment necessary, no 'if you want to play in the Olympics, you have to play here," about how this version of Team USA Basketball will go about selecting players, 11 of the 12 members of the roster for 2023 FIBA Basketball World Cup have been announced — and it's not exciting.

Paolo Banchero (Orlando Magic), Jalen Brunson (New York Knicks), Anthony Edwards (Minnesota Timberwolves), Mikal Bridges (Brooklyn Nets), Cam Johnson (Nets), Walker Kessler (Utah Jazz), Austin Reaves (Los Angeles Lakers), Bobby Portis (Milwaukee Bucks), Tyrese Haliburton (Indiana Pacers), Brandon Ingram (New Orleans Pelicans), and Jaren Jackson Jr. (Memphis Grizzlies) have all signed up. The team will hold a training camp and play an exhibition game in Las Vegas in August. The World Cup will begin later in the month, as the team will play in Manila. Team USA finished seventh in the 2019 World Cup.
Bring back tryouts
It's time to bring tryouts back before this new regime turns into the old one.

In 2002, Team USA finished sixth in the World Basketball Championship and had a starting lineup that included Paul Pierce, Antonio Davis, Ben Wallace, Andrew Miller, and Reggie Miller because everybody had gotten lazy due to the dominance of the 1992, 1996, and 2000 Olympic teams. That entire "we can just show up and win" mentality is what led to the embarrassment of the 2004 Olympics when Team USA came away with a bronze medal.

After back-to-back embarrassments, Jerry Colangelo took over USA Basketball and hired Coach K. Commitment mandates were put in if players wanted to make the team. It worked. Team USA lost one game under Coach K during his decade-plus tenure.

"The amount of time we had to put into this was substantial," Colangelo said in 2009. "For more than three years, we were in constant touch, constant planning, meetings, dealing with players, training camps, travel, the world championships, the Olympic qualifying and then the whole Olympic experience. And Mike was amazing, in terms of preparation, everything you ever heard about him."

Gregg Popovich took over for Coach K, and there was an immediate drop-off. Scrimmage losses to G League players happened, a 78-game winning streak was snapped, and exhibition defeats ensued. It was a disaster, despite Popovich and his team figuring out how to bring the gold home in the last Olympics.

But yet, here we are, getting ready to send over another group of thrown-together talent that's destined to make the same mistakes from the past.

"You have to adapt to the times," Hill said when he announced his plan. "If you looked at the NBA, it has changed tremendously. It's changed since I retired in 2013. Every generation's different and it's important for us as leadership, particularly USA Basketball, to recognize that and be willing to adapt with that change."

Change is indeed inevitable, but it doesn't mean you have to throw the baby out with the bath water. The Summer Games of 2024 in Paris are just around the corner, and we still don't have any idea what that team will look like. The last time Team USA was in that position, commitments weren't mandated, but disappointing finishes were.