The ancient Indian sport of kabaddi is undergoing a revolution. For centuries it was only played on dusty fields in backcountry villages, but the launch of the Pro Kabaddi League in 2014 has transformed it from an antiquated pastime into a modern sporting spectacle on the Asian subcontinent, played in state-of-the-art stadiums and watched by hundreds of millions. The sport is growing so rapidly that the Kabaddi World Cup, which has been taking place this month in Ahmedabad, India, even features a team representing the United States.

"I was in yoga class and I got a text. It said—'Do you wanna go to India?' Of course, the answer was yes," says Denmar McKie, 28, who is known back in Florida as MC Pharoh D, a rapper who dabbles in poetry and vegan cooking. "I had never even heard about kabaddi! Professional athletics is something that, at this point in my life, I never thought I'd be embarking on."

Kabaddi is kind of like schoolyard tackle football, without the football. Or like red rover played by overzealous wrestlers. The PKL version of the game is played indoors on a large, rectangular mat and the teams are broken up into two sides, blockers and raiders. A raider must foray into the opposing half, tag a competitor, and then make it back to their own half without being tackled. The raider must do so with only one breath, repeating the word "kabaddi" so the referee knows they haven't inhaled. Points can be gathered in a number of ways, but basically it's just a bunch of big dudes tackling and evading with combinations of brute strength and agility. It's fast-paced, visceral, intuitive, and a very big deal in India.

The Kabaddi World Cup has hoped to introduce the sport to a worldwide audience. Capitalizing on the success of the Pro Kabaddi League, the World Cup has featured 12 teams—India, Iran, Bangladesh, England, the United States, Australia, Japan, South Korea, Poland, Kenya, Argentina, and Thailand—and 33 matches en route to the final, which takes place tomorrow morning between pre-tournament favorites India and Iran.
But outside of recently established PKL stars, like Anup Kumar, the captain of the Indian team, the quality of World Cup rosters thins out dramatically. Much of the tournament wasn't even arranged until a few weeks before it kicked off, so many of the teams were hastily assembled and under-prepared. Most of the rosters are made up of part-timers, and often novices. The England team features a pharmacist, a dentist, and two med school students in its ranks. The Australian team is made up of mostly retired Aussie Rules football players. But no team has struck more curiosity than the United States contingent.
G/O Media may get a commission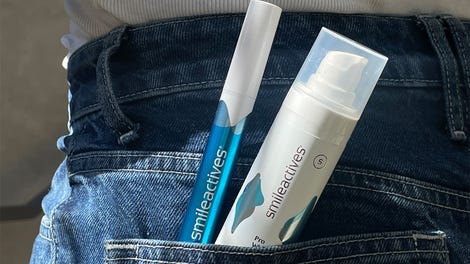 58% off
Whitening Powerhouse Pen & Gel Duo
Team USA's roster was entirely unknown to the world until they stepped off the plane at the Patel International Airport on October 6th, only a day before their opening fixture against tournament heavyweights Iran. Most expected a hodge-podge unit of South Asian expats and aging journeymen, but instead they got 20 young, fit, black men, many sporting dreadlocks and tattoos, all bristling with energy. How this team of unknowns ended up in India playing at the brand new TransStadia arena against the best kabaddi players in the world is a tale of chance, opportunism, and a sight of what happens when a local game meets the global modern sports world.
The opportunity came when Celestine Jones, an enterprising graduate of Florida A&M in Tallahassee, stumbled upon a chance meeting with PKL officials. They wanted her and boyfriend, team member Kevin Caldwell, to furnish a U.S. contingent for the World Cup. The only catch was that she had less than a month to do so. She didn't even have time to think twice, and naturally tapped into her network in Florida. Through social media and word-of-mouth, a ragtag group of musicians, rappers, aspiring media entrepreneurs, bodybuilders, athletes, and fitness professionals answered the call, dropped everything and set out to Jacksonville for training.

None of the players who showed up in Jacksonville had ever played the sport before, and some even had doubts that the opportunity was real. "It sounded too good to be true," says Jamil Levitt-Hartney. "But I just listened to my inner spirit, and I just had to take that leap of knowing." Led by an imported Indian coach named Rana, the two-a-day practice schedule undertaken on the clay diamond of a baseball field was a shock for many on the team, even those with semi-pro and collegiate athletic experience. "It took a lot from each and every one of us," says Dillyon "D. Black" Banks. "There were people throwin' up on the field. We're not getting paid to do this. The dedication, the heart, the team effort it took in a short period of time to make this whole thing work is what brought us together."

Total beginners at the sport, the United States team had just over two weeks to train before flying to India and playing against the best in the world in front of an audience of millions. They arrived in Ahmedabad having never played a competitive match, or on a mat, or even in front of a crowd. They had no idea what they were in for. "It didn't really dawn on us how big this thing was until we landed at the airport," says McKie. "We felt like the Jackson 5, man, people coming and taking pictures, gatherin' around."
After less than a day to adjust to the culture shock of India, Team USA hit the mat against tournament favorites Iran and were totally outmatched, losing 52-15—a blowout. Their inexperience was plain to see, but so was their personality and presence. Troy Bacon aka Kushim Rey was the leader from the front, picking up multi-point "super raids" with his dreads flying through the air. Kevin Caldwell sharpied the word 'HUSTLE' on the back of his stars-and-stripes jersey. Ben Marcelus told Indian journalists that they should call him "BenTen." The U.S. team's official tournament photo shoot turned into a full-blown ruckus—a far cry from the austere atmosphere of the Indian team's session. For a sport that was until recently only played by Indian villagers, the culture shock was a mutual experience.
Two days later, the U.S. was beaten 45-19 by Japan, and then 75-29 by fellow newcomer Poland. Despite their obvious athleticism and enthusiasm, the U.S. contingent have been entirely out of their depth, something that they've had to come to terms with. "Everyone knows that we're beginners. We've accepted that," says Ryan Jones. He's the one white guy on the roster, triples as the squad's massage therapist and yoga instructor, and has been lovingly given the nickname "Wonder Bread" by his teammates. "It's almost like being thrown out to the wolves," continues Banks. "It's like somebody trying to learn basketball by going against the Miami Heat. We're steppin' back and lookin' at this like—Damn. These guys have been doing this for years at a professional level. It's a humbling experience."
A further humbling 69-22 defeat to Thailand followed, and pool play rounded out by a 74-19 loss to Kenya on Tuesday. That such an inexperienced team could even be fielded asks questions about the legitimacy of the World Cup, but the Americans refuse to write themselves off as patsies. "I don't care how long they've been playing, we go into every game looking to dominate. That's just the nature of the warrior mentality," says Jamil Levitt-Hartney. "Losing is not something that we take lightly. It's motivation. It actually lights a fire to go and practice and get better. If we lose, we have this pride thing that comes … I guess you can say it's an American thing."
Although the results weren't favorable, there are signs of encouragement for Team USA beyond just showing up. Battered and bruised, the team's shape and sharpness increased with each game, capped by a memorable Banks raid in the final outing, during which he dragged damn near the whole Kenyan team back with him to stateside lines. In the same game Marcelus—with six stitches above his eye—aggressively battled through Kenyan lines to score a point. They kept composed and competed until the final whistle. Perhaps even more importantly, the United States team has established a modern origin story: Kabaddi is now a game played by Americans.
When I make the inevitable connection and ask the team members if they've ever seen the 1993 movie Cool Runnings, in which an unlikely assortment represent Jamaica in bobsled at the Winter Olympics and come dead last, they all burst into laughter, talking over one another to drop one liners. They've all seen it. Anyone looking to pick up the movie rights to this story may want to consider Warm Raidings, although with as many self-professed media entrepreneurs as there are on the team, this story could well turn into a Tyler Perry vehicle before the next World Cup.
Members of the U.S. team are optimistic for the future of kabaddi in America. "It's very intense and it's physical. it's fast paced," says McKie. "That's something that people in America gravitate towards." Although there is no infrastructure currently in the United States for PKL-style kabaddi, members of the U.S. contingent are taking it upon themselves to lead the charge. "We definitely do intend to bring the league to the United States and spread it on a national level," says team manager Celestine Jones. "We intend to be international contenders in this sport."
"For me, it's like a second chance," says Banks, who has emerged as a star of the team. "I was always into sports, but football was all I knew—I'm American! But after that college level, you never think you're gonna go out there with another professional sport," he says. "Now, something else just fell in my lap to put all the energy that I still have into a sport. I love it. It's great."
There are rumors swirling among the media in Ahmedabad that there may be another edition of the Kabaddi World Cup as soon as next year. Tradition states that kabaddi originated in India over 4,000 years ago. The United States made it this far on just two weeks of practice. Imagine where they can go from here.