"This partnership will provide more tennis, to more people, in more ways than ever before," said the USTA's CEO in 2008 after signing a six-year ESPN deal. He was partially correct: I've never seen a tennis broadcast quite like yesterday's.
Rafael Nadal defeated Novak Djokovic last night in a soggy Arthur Ashe Stadium, picking up his first U.S. Open title and becoming, at age 24, the youngest player in modern men's tennis history to amass a career Grand Slam. It was a spirited match, full of tense rallies and impossible angles, between two compelling athletes: Nadal, arguably the best player in tennis today, and Djokovic, a more unpredictable talent who arrived in the finals by virtue of a five-set victory over Nadal's biggest foe, Roger Federer.
But what should have been a hot ticket was handled by the networks more like a hot potato. The match bounced from Sunday to Monday, from CBS to ESPN2, and was set to be passed off to a third channel, ESPN Classic, had it elapsed beyond 10:15 p.m. Nadal pulled off the victory in time, though, and was rewarded by The Deuce abruptly cutting away from him, mid-trophy raise, in favor of pre-game B-roll footage leading into the NFL's extraneously scheduled second football game of the night.
NY1's Pat Kiernan recorded the nuanced transition, indeed a true feat of advanced production values:
What this video leaves out was the startling suddenness of it all after such a big and slow buildup for the viewers who dutifully chased the match down from its start on CBS to its finish on ESPN2. Following Rafa's win, these fans sat through post-match speeches and interviews, the presentation of the runner-up plate, and a darling moment involving Nadal's million-dollar prize check (which Djokovic gallantly offered to hold). All of these things were shown live on TV, all leading up to Nadal being handed his trophy.
G/O Media may get a commission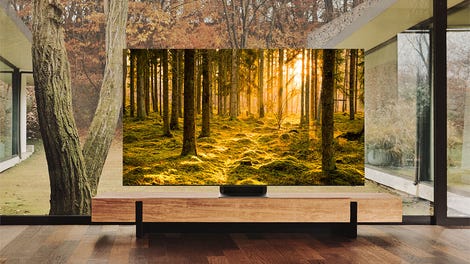 Up to 40% off
Samsung Smart TVs
But when the time finally arrived for Rafa to bask in his first U.S. Open limelight, to bite down on a trophy that he'd never yet held, to take his first lap around the court as a career Grand Slam champion, TV viewers — who had chosen tennis, don't forget, over the Jets-Ravens slop being served one channel down — were left totally hanging, Sopranos finale'd, dickslapped with some worthless pre-game panning shots of Arrowhead Stadium and the wailing twang of the Monday Night Football ditty. The Chiefs-Chargers game had not even begun at that point, and when it did, it aired for all of a few minutes before moving to ESPN when the Jets-Ravens game finished. Good thing we saw Hank Williams, Jr., though.
I would almost believe that the network intentionally pulled out the rug at the ultimate moment, just to prove that it could, but that would suggest that the clowns running the circus had any hint of a clue. The whole thing had the whiff of some dude in a production trailer hearing his watch alarm, toggling a switch with his toe, then resuming his Tetris. Adding insult to injury: even ESPN Classic, rather than hosting the U.S. Open's postmortem — the press conferences, the Enberg-McEnroe analysis, the slo-mo tear-jerking footage of Rafa nuzzling his jug — plowed ahead with its coverage of celebrity bowling.
It makes me long for those halcyon days when tennis was carried by USA, a simpler network that didn't make its viewers submit to its unexplained whims and shuffle blindly through a labyrinth of unlocateable sub-channels.
We've all become used to these antics by ESPN, but the World Wide Leader would never have ruined the finish if it weren't for CBS having mangled the start. CBS had a hand in postponing the final to Monday rather than seeing it rain-delayed into primetime Sunday night, and in scheduling the final for 4 p.m., despite forecasts predicting late afternoon storms, rather than starting at noon.
When the rain did roll in yesterday, with the game tied in the second set, CBS punted coverage to ESPN2 lest anyone miss...a re-run of Two and a Half Men. Some affiliates never aired the game at all, going with Oprah instead. So slapdash was the decision that the ESPN2 broadcast bore graphics with the CBS logo.
It was an embarrassing dis to the USTA, as the New York Observer's John Koblin wrote last night in a damning assessment:
All signs seemed to indicate we could be headed for a good long match. Rafa won the first set, and we're at 4-4 and 30-30 in the second set. This actually provides a lot of potential for the U.S. Open and men's tennis. At least the ratings tonight would be through the roof—a primetime audience for an excellent tennis match! But CBS wants no part of it. They're cutting it off, and ESPN2 is left to pick up the rest of the coverage. This is truly mind-boggling. How are fans supposed to even know where to find it? I know because a friend IMed me. But other than word-of-mouth? You're finished. And the ratings will surely be ugly.

It's great that the USTA has had a relationship with CBS for so long. They've broadcast the U.S. Open for 43 years. And nope, there's no roof here and there probably won't be for some time, and the USTA has to sleep in the bed it made for itself. But with CBS pulling the plug this should send a loud-and-clear message that they really shouldn't be the home for the tournament any longer. This is the showcase event for tennis in the United States and CBS won't bother finishing airing it.
As Koblin says, the USTA left themselves vulnerable to this situation. The federation opted, against the loud wishes of John McEnroe, among others, to build higher and bigger and pack more seats into Arthur Ashe Stadium rather than construct a slightly scaled down version with a retractable roof. This is the third consecutive year that weather has caused play to stretch into Monday.
And they keep on kowtowing to CBS. Last year the federation struck a too-cheery tone when CBS balked at primetime coverage. And discussions of renewing the contract between the two entities, which runs out next year, have been said to "include relief for the broadcaster in the event some of its coverage is delayed or canceled by rain." And this was before the events of the past two days.
"Unfortunately, it's the third straight year, but at least we have a little bit of a track record," USTA spokesman Chris Widmaier told the New York Times's Lynn Zinser in one of the least soothing attempts at spin ever. The USTA: At least we know how to fuck up.