You already know the story of the Red Sox's epic collapse—an eight-and-a-half-game wild card lead, blown to bits, that 99.6 percent chance of making the playoffs, turned to zero. Now, according to pretty much every national baseball writer (Fox Sports' Ken Rosenthal had it first last night), the Red Sox are going to axe poor, lovable Tito Francona for his role in the whole thing, even though they said no one blamed him. Francona had a two-year contract option, and the Sox won't pick it up.
Jokic? Embiid? The NBA MVP is obvious... right? | Keep it a Buck(et)
So, now the game of managerial musical chairs, which began with Ozzie Guillen being traded to Florida Monday night, will resume, this time with a Dropkick Murphys soundtrack.
Who will replace Francona in Boston? Well, everyone—Bobby Valentine, Joe Torre, and plenty of other retreads tossed out by Sox writers on radio interviews and repeated back on Twitter. (Hell, the Joe Torre For Red Sox Manager campaign has already turned up in the Star-Ledger.) It sounds like the only internal candidate is bench coach DeMarlo Hale, who's probably just being considered because he has a great Jerry Remy name.
And of course Francona's going to manage the Cubs or White Sox, right? (See here and here!) Never mind that the Cubs already have a manager—a crummy one, yeah, OK—and never mind that the White Sox dumped Ozzie over money when Francona will cost a lot. He'll go to Chicago because Chicago is the home of storied franchises, see, and Francona loves a storied franchise, see.
G/O Media may get a commission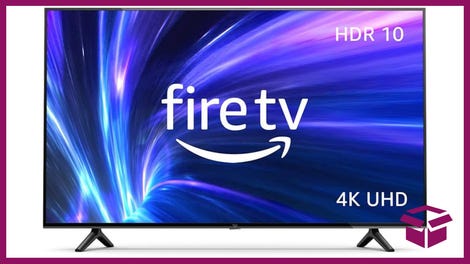 42% Off
Amazon Fire TV 50" 4K Smart TV
Musical chairs? Naw, it's a tilt-a-whirl! Now get us off before we all hurl.