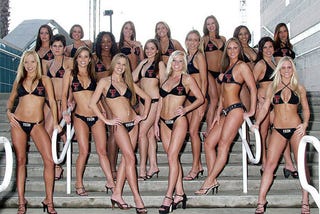 Sunday's afternoon blogdome featured this photo, purportedly of the Texas Tech women's swim team and part of Gunaxin's salute to the girls of Texas Tech. Only one problem: Texas Tech doesn't have a women's swim team. The photo, says Deadspin reader and Lubbock native Jesse Tow, is an obvious Photoshop. And indeed, upon closer scrutiny, the evidence of fakery fairly jumps off the screen. From Gunaxin:
As the game came to a 39-33 close with Texas Tech on top, students stormed the field to celebrate. Let's look at some of the sexy Texas Tech girls that were probably part of the mayhem.
Tow responds via email:
I grew up in Lubbock, and as much as I'd like to confirm the hotness of Texas tech women, that swim team pic from the blogdome is an obvious photoshop. They haven't had a swim team in years. The other pics beyond the link, are absolutely valid of course. Makes me wish I didn't have to be an egghead and go to Cal....
Indeed, notice how the Texas Tech logos are presented on different sides of the bikini tops; on the sides that just happen to be unobstructed? The logos also all seem to be very, um, flat. A visit to the university's athletic site reveals that Tech has no swim program whatsoever; men's or women's. I doubt they even have a pool. Now, compare Gunaxin's version of the Texas Tech cheerleaders, with the photo of the 08-09 squad that I found on their web site. What are you trying to pull here, Gunaxin? Any Texas Tech students or alumni out there who want to weigh in on this? I will not rest until this mystery is solved. UPDATE: Bikinigate mystery solved. These girls are actually the Tampa Bay Storm cheerleaders, circa 2004. Gunaxin has removed the photo, with this explanation:
We use google just like everyone else. Are you actually suggesting that we should check our sources and all of these images for their validity? We're not a failing newspaper, we're a failing blog! It's the internet, everything is fake. We had no intention to deceive, so we have no problem taking down photos that are falsely representing the hotness of Texas Tech girls. Thanks for the links Deadspin, and in the future we'll try to make sure all of our girls are 100% natural, although that won't be as much fun.
Here's the original photo (thanks to Jayson Werth, whom I'm sure only kept it to clear up any potential controversies):
Remember, without eternal vigilance, it could happen at your school! Texas Tech Athletics Girls Of Texas Tech [Gunaxin]