What's wrong with the San Francisco 49ers' offense (besides everything)? It is, as we are learning, incredibly predictable. And that is apparently by design.
Over the last few weeks (thanks to Deadspin commenters for flagging this), offensive coordinator Geep Chryst has been talking about the need to keep Colin Kaepernick out of potentially disastrous third-and-long situations. (The talk started after a two-week stretch in which Kapernick threw five interceptions.) This sounds innocuous enough—everyone wants to avoid third-and-long—but few teams mention by name their quarterbacks whom they don't totally trust to complete passes for yardage against defenses expecting a throw, even if the Niners' struggles have been as much the fault of their O-line.
If the 49ers telegraph this strategy, and follow through on it, it benefits opposing defenses in two ways. The first is that play calls on second downs become a little easier to predict. In a second-and-long situation, with the 49ers so desperate to avoid third-and-long, you can probably expect a rush more often than not, just to avoid the possibility of an incomplete pass and a gain of zero.
But when the Niners do find themselves in third-and-long, they're simply taking the play out of Kaepernick's hands.
G/O Media may get a commission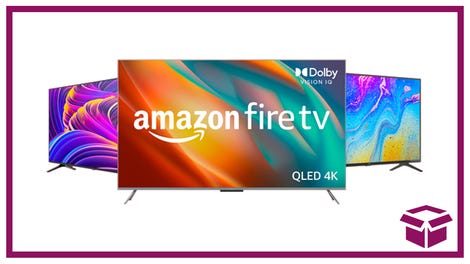 Ooh. stunning.
New Amazon Fire TVs
Kurtenbach further breaks down last night's third-and-long calls over at KNBR.com. San Francisco's only third-down conversion of the night came on a broken play. And the one time they did let Kaepernick air it out? Well, that play has already been featured on Deadspin today.
So the Niners aren't calling long passes for Kaepernick in obvious passing situations, and he's not scrambling—for whatever reason, Kaepernick had zero rushes last night for the first time in his career. This is an offense that doesn't need to be further handicapped, yet the playcalling seems like they're so afraid of taking risks that they're folding early.
"Colin's our quarterback. No controversies," Jim Tomsula said today. That might not even matter.
[KNBR.com]